Salt herbs are a versatile and rewarding seasoning that adds a burst of flavor to any dish. With a simple blend of dried herbs and salt, you can create a fragrant and savory mixture that enhances the taste of your favorite foods. The herbs infuse the salt with their aromatic notes, elevating the overall flavor profile. Whether sprinkled on grilled meats, roasted vegetables, or even used as a finishing touch on homemade bread, salt herbs bring a satisfying depth of taste. Enjoy the ease and satisfaction of making your own flavorful seasoning, taking your culinary creations to new heights with just a pinch of salt herbs.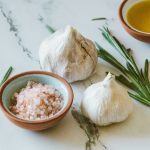 Print
Salt Herbs
Materials
1.25

oz

salt

4

tsp

rosemary leaves

4

tsp

thyme leaves

1

tsp

black peppercorns

6

bay leaves
Instructions
Combing all the ingredients in a clean spice grinder and grind to a medium-fine powder.

Put in an air-tight container and let rest for 12 hours before using.
Notes
Salt herbs can be made using any combination of herbs from your garden. Whatever your personal preferences are! They are great to use as a dry rub on meat.