Stuffed zucchini blossoms are a delicate and delightful appetizer that celebrates the beauty of zucchini flowers. With minimal ingredients and careful preparation, you can create a culinary masterpiece that combines the subtle sweetness of the blossoms with a flavorful filling. The delicate flowers are carefully stuffed with a mixture of cheese, herbs, or other delicious fillings, and then lightly battered and fried to crispy perfection. Whether enjoyed as an elegant appetizer or a unique addition to a meal, stuffed zucchini blossoms offer a delightful blend of textures and flavors. Embrace the artistry of preparing these edible blooms and savor the exquisite taste with each delightful bite.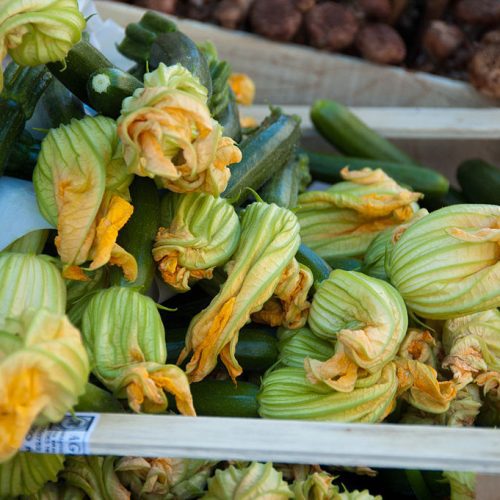 Stuffed Zucchini Blossoms
If you're not familiar with the joys of stuffed zucchini blossoms then you don't know what you're missing. These little bites of heaven are amazingly delicious and so very easy to make.
Ingredients
Stuffed Zucchini Blossoms
12-15

zucchini blossoms

1/2

cup

ricotta cheese

1

oz

Romano cheese

(grated)

1

oz

Mozzarella cheese

(shredded)

1

egg

(lightly beaten)

sea salt

(to taste)

black pepper

(to taste)

A

pinch

granulated garlic

cooking oil

(as needed)
Egg Batter
2

whole

eggs

1/4

cup

milk

1/4

cup

flour

1/4

cup

Romano

(grated)

1

Tbsp

basil or Italian parsley

(chopped)
Instructions
Blossom Stuffing
Mix all the ingredients together and place in small pastry bag, or a ziplock bag with an end snipped off.

Open one end of the blossom gently and squeeze a small amount of cheese into the blossom. Due not overfill, you want enough to almost fill the blossom not to make it bulge.

Refrigerate the blossoms for about 10-15 minutes while you get the egg mixture together.
Egg Batter
Lightly beat the eggs and add in milk, flour, cheese, and basil. Mix well. Egg mixture should be about pancake mix thickness. If the mix is too thick the egg coating will be to thick and if its too thin it will run off.

Heat a large sauté pan and then add about ¼ inch of cooking oil to the pan.

Dredge Zucchini blossom in egg mixture, shed any excess egg and place into hot oil, continue the process till you fill the pan.

Fry each side of the Blossom until golden brown, about two minutes on each side, the second side may cook faster, keep an eye on them.

Place finished blossom on paper towels to drain off any excess oil. Place blossoms on serving tray and season with grated Romano cheese, sea salt and black pepper.
Notes
This recipe is courtesy of Chef Dennis Littley from Ask Chef Dennis.