Chris Mattingly and his family
Chris was a pizza and hoagie enthusiast before he started Backyard Eats. He was in love with composting, soil, insects, and the wonder of watching plants grow, but surprisingly he never ate salad or craved a veggie. He was dumbfounded when an early client requested she have enough greens in her garden to eat a salad every day. "Do people really do this?" he thought, "Is she just trying to impress me?"
In an effort to master growing salad greens for his client, Chris grew lots of his own, fell in love with homegrown greens, and became a daily salad eater himself. This profound personal change is just one of the many ways growing food has impacted his life and the life of the employees and clients that make up Backyard Eats.
Chris now leads a team of passionate professionals driven to help people experience the life-changing magic of growing their own food. And for the record, he still loves a classic Italian hoagie!
Mike Bennett graduated from Widener University with a degree in Finance. During a 6-month tour with his band, Apple Juice Jones, Mike had a revelation. In Willow Creek, California he spent a magical night with his band and a generous family that served homemade wine with goat cheese, tomatoes, and crispy onions – all from the family's small farm. It was in front of the glowing fire that he realized he wanted to be a part of the profound transformation that food can bring to one's health, community, and regard for Mother Nature.
In February 2020, Mike brought his construction and customer service experience from the home foundation and drainage industry to Backyard Eats. Now, Mike shares his passion for the magic of homegrown food with our gardening clients! You can often see him meeting clients for a consultation, or recording one of our personalized garden proposals.
In his free time Mike is a bassist, singer, songwriter, manager, and producer for his band, Apple Juice Jones. He also enjoys practicing yoga and golf.
Garden Designer, Drafter & Warehouse Manager
Sage Forte earned her BFA from Arcadia University with a concentration in sculpture and a minor in CAD. She is continually inspired and shaped by her dad, a curious gardener and dedicatedly experimental chef. At Backyard Eats, Sage is excited that she can meld this unique combination of passed-down family passions, learned technical skills, and art training together to create a career she didn't know existed!
Sage began by working on the installation team for a year, then moved into production management and back-end sales before adopting her current role. This journey has helped her feel fully immersed in the company. You can appreciate her immersive 3-D raised bed and landscape renderings as part of our custom garden proposals! In her free time Sage enjoys sculpting and metal smithing, hiking and natural immersion, and travel.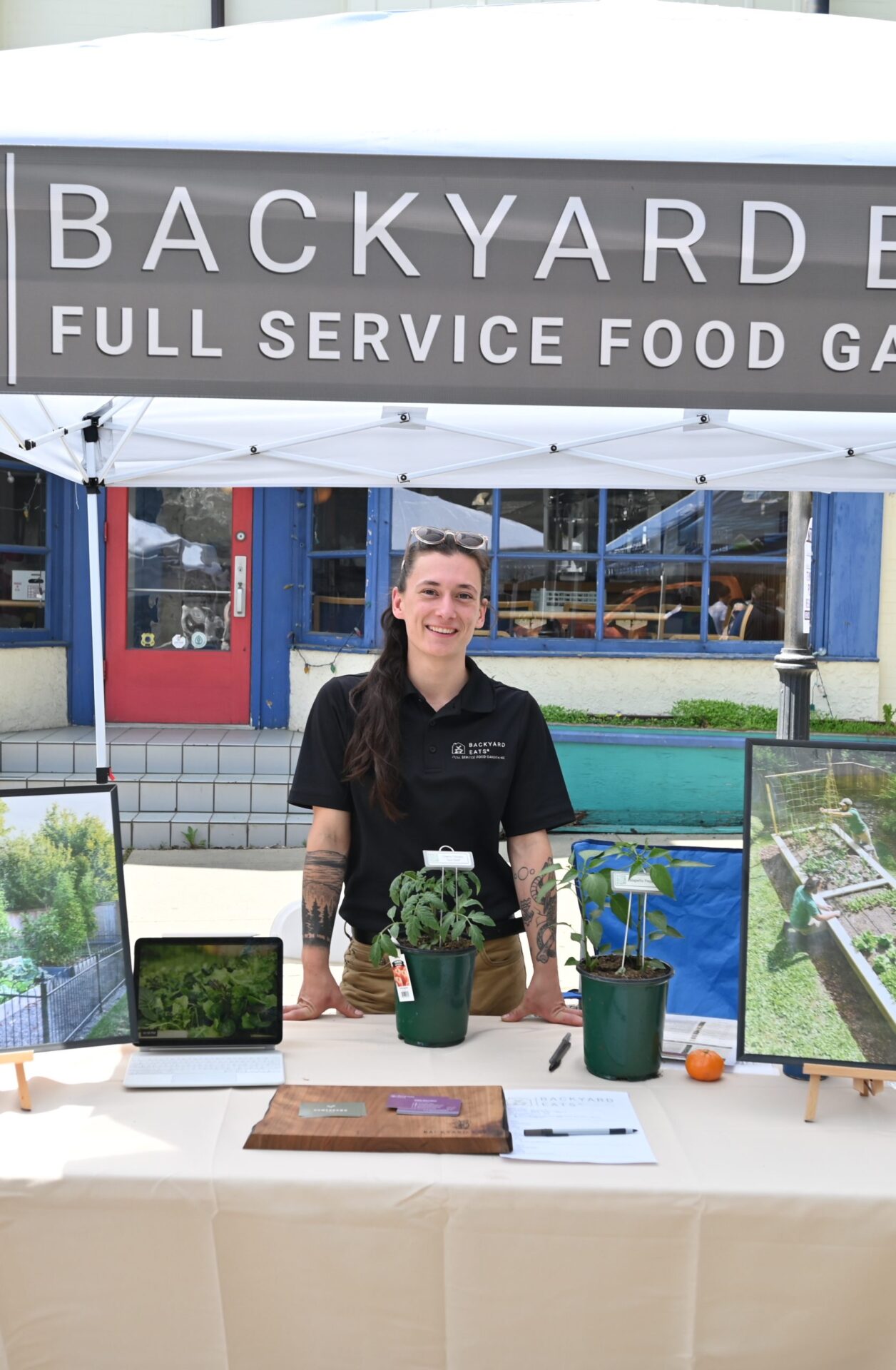 Donna Bennett joined Backyard Eats in February 2022, and now is our office manager extraordinaire! She uses her extensive logistics, record keeping, and client service experience to keep everything running smoothly at our local shop. She manages topics such as finances, scheduling jobs and maintenance, and organizing plants and labels.
If you've ever sent us an email, you've probably experienced Donna's warmth and expertise!
Donna has loved growing plants since she worked as a floral designer, and became interested in homegrown food in the past few years thanks to the encouragement of her son Mike. In her free time Donna loves pulling fresh ingredients from her garden to plan exciting parties for friends and family! She also enjoys spending time in nature whether that be hiking, bike riding, or going to the beach.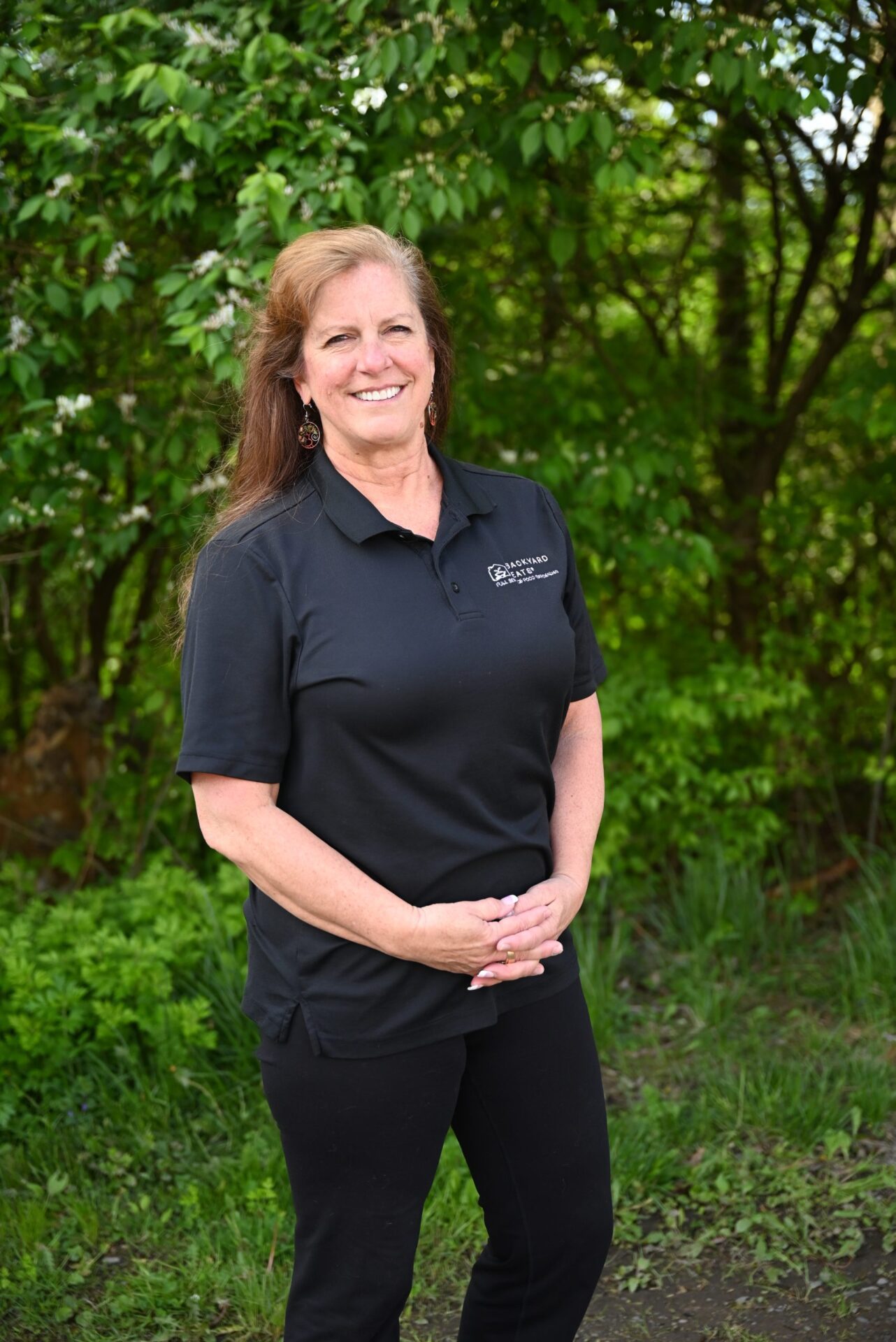 Maintenance & Nursery Lead
Pat has been with Backyard Eats for multiple years, and gracefully runs our planting and maintenance team. Pat has an enormous wealth of knowledge for all things garden, seeds, and soil. He is also a perennial learner and student of the natural world. Everything you see on our website was tended by Pat at our bespoke nursery! You can also see Pat checking up on your garden beds to make sure everything is planted correctly, growing and thriving with the right conditions, and harvested for you to enjoy.
While volunteering at a local CSA, Pat became known as the "Salad King" for his routinely epic lunches composed of every leaf they grew at the farm, topped with the main dish from last night's dinner. So naturally, his garden persona is "lettuce" because of its versatility, sustaining value, and because it's good-lookin and good for ya! In his free time Pat is an avid fisherman as well.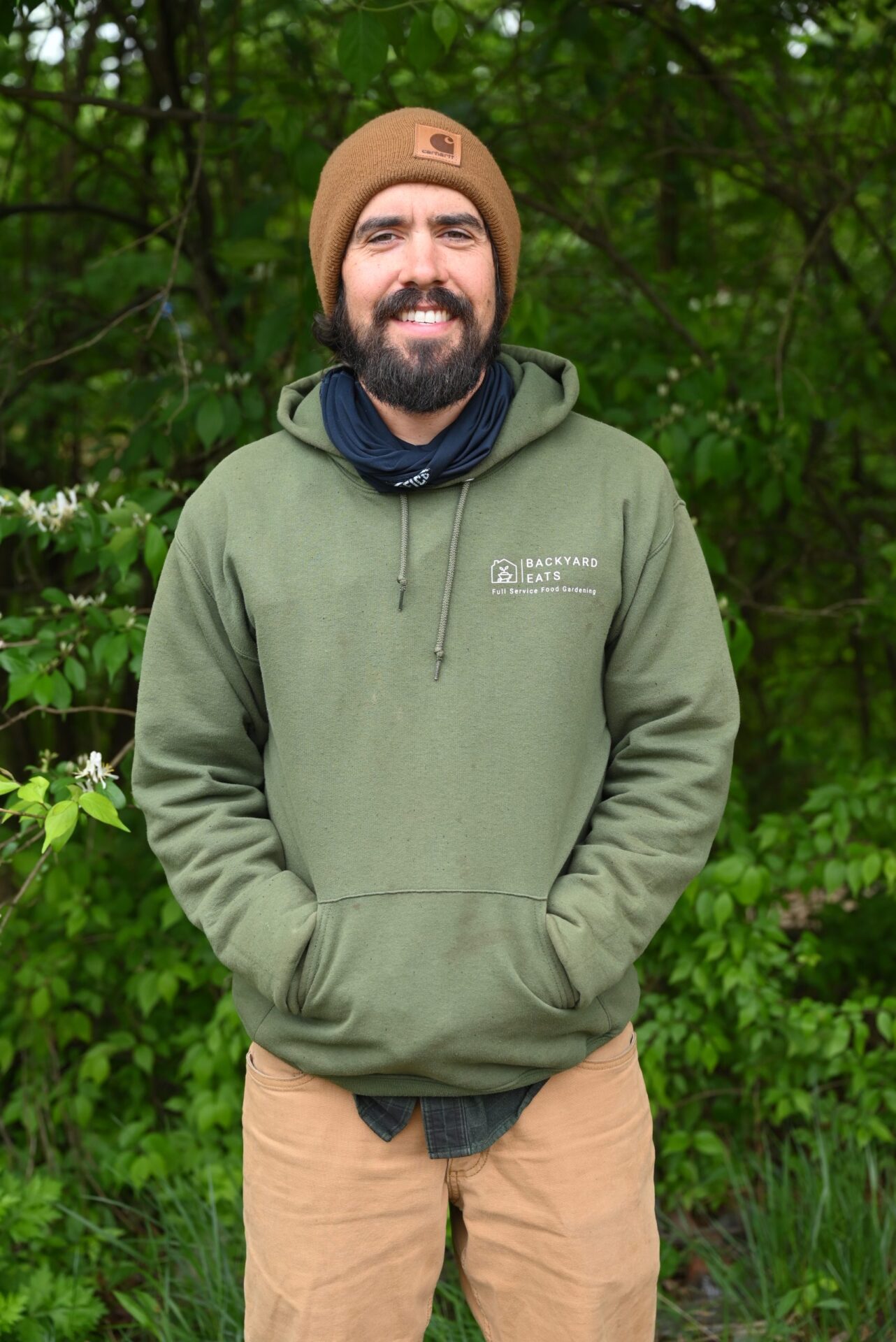 Tim leads our installation team here at Backyard Eats, and oversees everything from the construction of raised bed gardens to garden renovations. If you have a new Backyard Eats garden, chances are good it was hand-built by Tim into your landscape! Tim brings a strong traditional carpentry background to Backyard Eats which complements his construction skills to a "T."
Tim became interested in homegrown food after starting his own backyard garden three years ago. After experimenting and learning some lessons, he and his family are now in a steady rhythm of growing and cooking their own tomatoes, peppers, cucumbers, and more. In his free time Tim loves spending time with his young son and trying to teach him how to play the drums.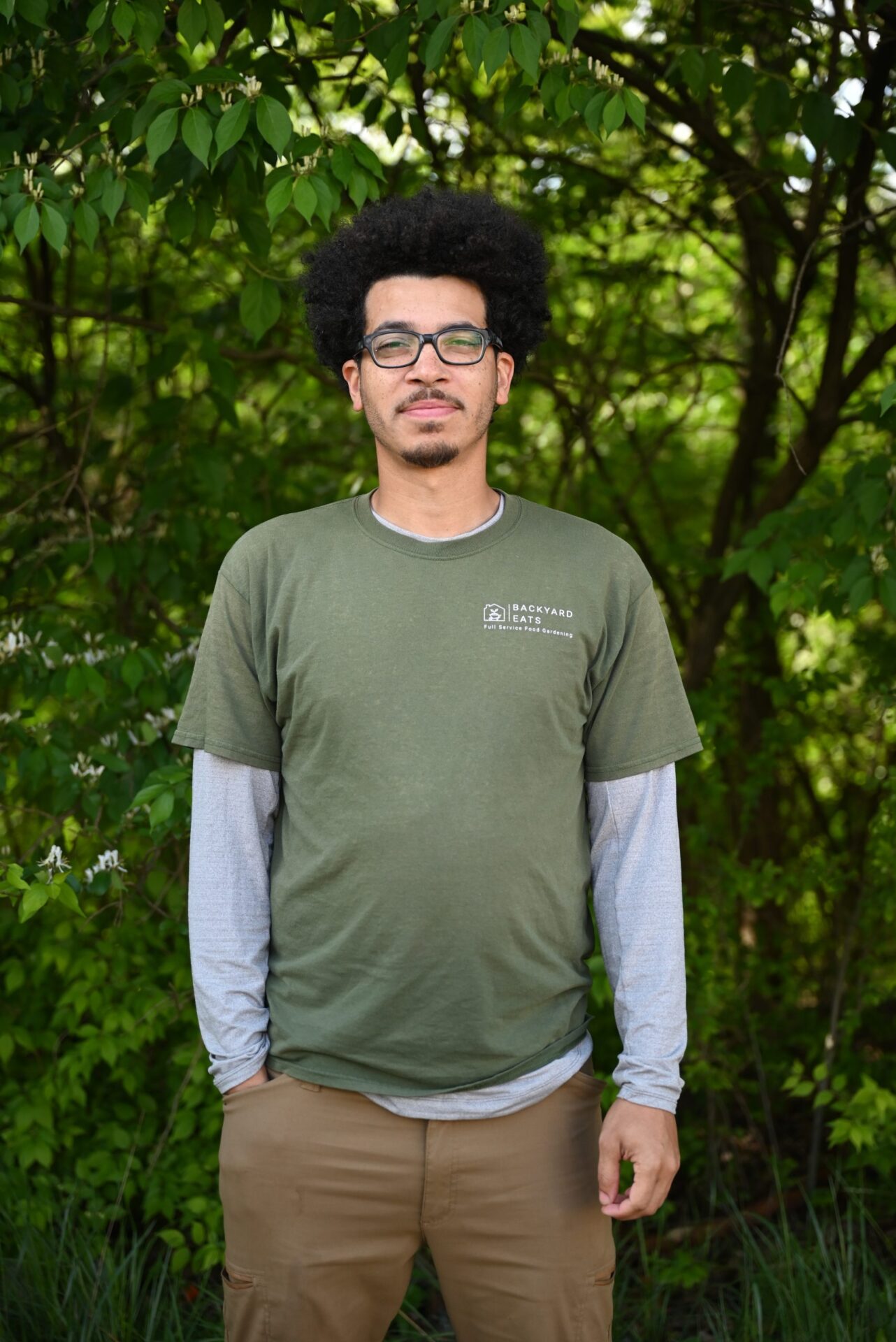 The fine print: Backyard Eats guarantees the life and productivity of all plants in the garden, as long as the garden is under our care.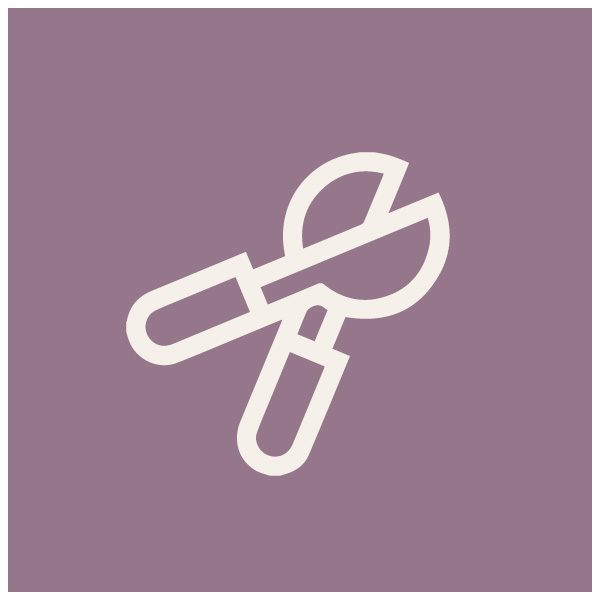 Our Mission
"Share the magic of homegrown food" is our motto, mission, and an imperative statement. The magic of homegrown food touches many aspects of life: Personal health and strength, connection with nature, connection with friends family and community, self-reliance and security, to name a few.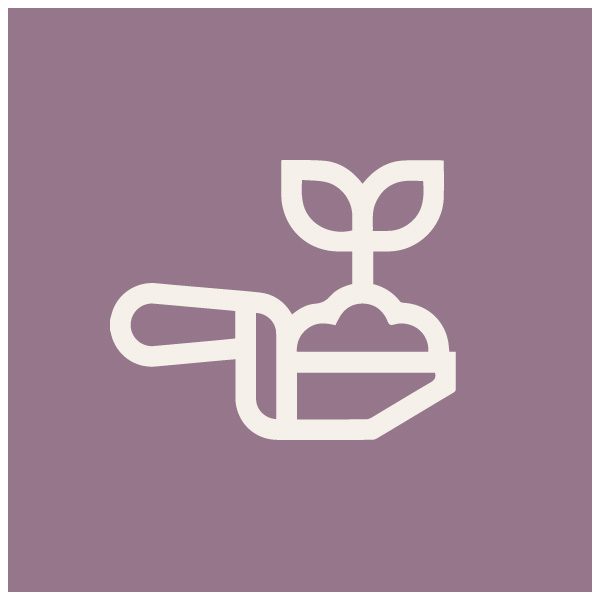 Our Team
We never use contractors to build our gardens. Our Team is made up of full-time employees, driven to accomplish our mission. For their hard work and adherence to our core values, they are rewarded with competitive pay, paid holidays, vacation accrual, and performance-based bonuses.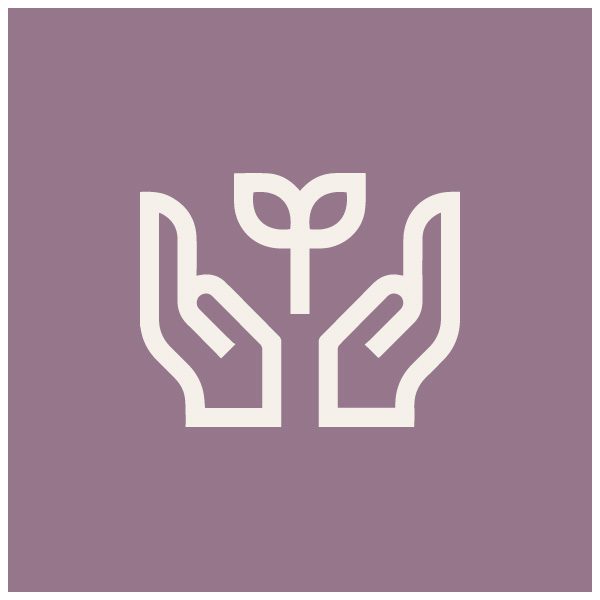 Your Home
We are serious about protecting you and your home.  All of our gardeners are full-time employees of Backyard Eats, are covered by workers compensation insurance, and have completed federal background checks.
We carry general liability insurance in the amounts of $1M per occurrence and $2M in aggregate.