Backyard Eats: Designing the Perfect Edible Garden for You!
At Backyard Eats, we're edible gardening experts. We exist to share the magic of homegrown food with as many people as possible! Our Design Specialist will work with you to design the perfect garden for your needs and budget. With our help, you'll be able to enjoy fresh, delicious produce all season long. Let us show you how easy and rewarding it can be to grow your own food!
Chris Mattingly & his family
Owner & Founder
Chris was a pizza and hoagie enthusiast before he started Backyard Eats. He was in love with the composting, soil, insects, and the wonder of watching plants grow, but surprisingly he never ate salad, and never craved a veggie. He was dumbfounded when an early client requested she have enough greens in her garden to eat a salad every day. "Do people really do this?" he thought, "Is she just trying to impress me?"
In an effort to master growing salad greens for his client, Chris grew lots of his own, fell in love with homegrown greens, and became a daily salad eater himself. This profound personal change is just one of the many ways growing food has impacted his life and the life of the employees and clients that make up Backyard Eats.
Chris now leads a team of passionate professionals driven to help people experience the life-changing magic of growing their own food. And for the record, he still loves a good Italian hoagie!
Maintenance & Nursery Lead
Pat is a perennial learner, and student of the natural world.
Pat has been with Backyard Eats for 4 years, and gracefully runs our planting and maintenance. Pat has an enormous wealth of knowledge for all things garden, seeds, and soil. You'll see Pat from time to time, checking up on your garden beds to make sure everything is growing and thriving with the right conditions. Everything you see on our website was grown by Pat at our bespoke nursery!
He's truly a master of the garden, and an avid fisherman as well. While volunteering at a local CSA, Pat became known as the "Salad King" for his routinely epic lunches composed of every leaf they grew at the farm, topped with the main dish from last night's dinner. So naturally, his garden persona is "lettuce" because of its versatility, sustaining value, and because it's good-lookin and good for ya!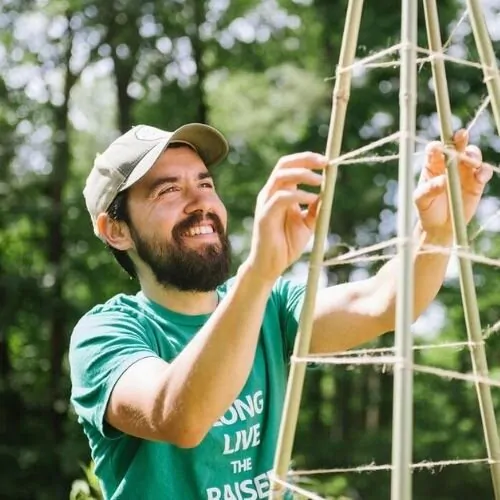 Garden Designer & Operations Manager
Mike went to high school at LaSalle College High School Wyndmoor, and graduated from Widener University with a degree in Finance, where he was the kicker & punter for the football team.
Mike had a revelation while on a 6-month travel tour with his band, Apple Juice Jones. It was in Willow Creek, California that he spent a magical night with his band and a generous family that served homemade wine with goat cheese, tomatoes, and crispy onions – all from the family's small farm. It was in front of the glowing fire that night, surrounded by his bandmates (one of which had recently used diet to combat and beat chronic disease), that he realized he wanted to be a part of the profound transformation that food can bring to one's health, community, and regard for Mother Nature.
Mike brought his considerable design and customer service experience from his work in the home foundation & drainage industry to the Backyard Eats mission in February 2020.
Mike is a bassist, singer, songwriter, manager, and producer for his band, Apple Juice Jones. In the winter of 2021-2022, Mike completed a 200 hour yoga teacher training which launched an interest and continued learning in healing & Ayurvedic herbology.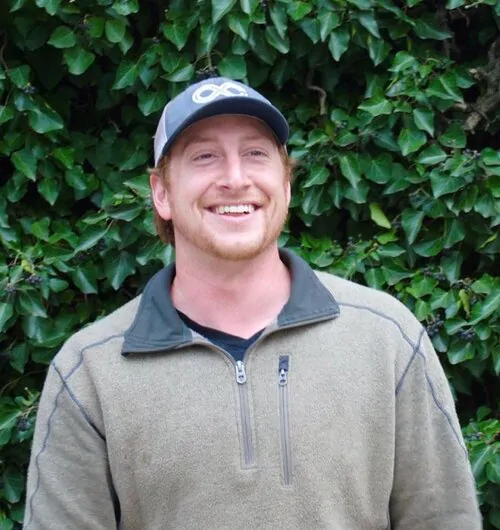 The fine print: Backyard Eats guarantees the life and productivity of all plants in the garden, as long as the garden is under our care.
Our Mission
"Share the magic of homegrown food" is our motto, mission, and an imperative statement.
The magic of homegrown food touches many aspects of life: Personal health and strength, connection with nature, connection with friends family and community, self-reliance and security, to name a few.
We're crazy about sharing the magic of homegrown food.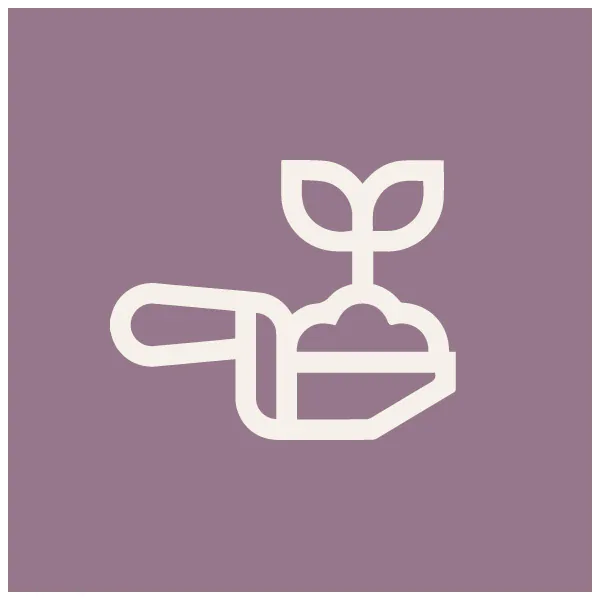 Our Team
We never use contractors to build our gardens. Our Team is made up of full-time employees, driven to accomplish our mission. For their hard work and adherence to our core values, they are rewarded with competitive pay, paid holidays, vacation accrual, and performance-based bonuses at every level.
Your Home
We are serious about protecting you and your home.  All of our gardeners are full-time employees of Backyard Eats, are covered by workers compensation insurance, and have completed federal background checks.
We carry general liability insurance in the amounts of $1M per occurrence and $2M in aggregate.