Fig and arugula salad with pecans, basil, and goat cheese is a delightful and flavorful dish that combines the sweetness of figs with the peppery bite of arugula and the richness of goat cheese. With minimal effort and a handful of ingredients, you can create a refreshing salad that is both visually appealing and delicious. The juicy figs, crunchy pecans, fragrant basil, and creamy goat cheese come together in a harmonious blend of flavors and textures. Whether enjoyed as a light lunch or a side dish, this salad offers a delightful balance of tastes that will elevate your taste buds. Embrace the simplicity of making this salad and savor its deliciousness with every mouthwatering bite.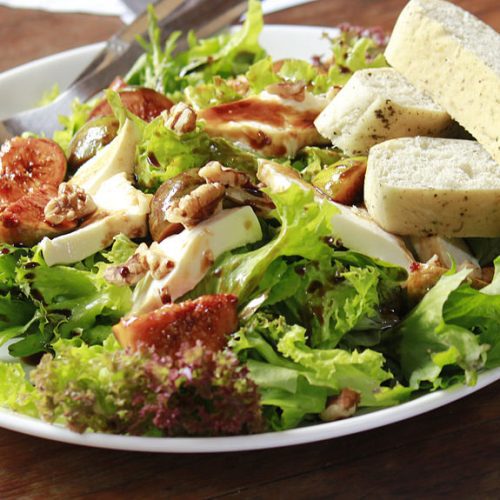 Fig and Arugula Salad w/ Pecans, Basil and Goat Cheese
Fresh Fig and Arugula Salad with Goat Cheese, Pecans and Basil tossed in a simple, delicious Balsamic Vanilla Vinaigrette
Ingredients
Salad Base
1/4

cup

red onion

(thinly sliced)

1/2

cup

toasted pecans

5

oz

baby arugula

(about 6-7 cups)

6-8

figs

(stems removed, quartered)

10-15

basil leaves

(torn)

1/2

cup

firm goat cheese, crumbled

(use the kind in a log, or try gorgonzola)
Fig Salad Dressing
3

Tbsp

olive oil

2.5

Tbsp

balsamic vinegar

1-2

tsp

maple syrup

1/2

tsp

salt

1/2

tsp

pepper

1/4

tsp

vanilla

(optional)
Instructions
If sensitive to red onions, thinly slice and soak in salted water for 15 minutes.

Toast pecans in a dry skillet over medium heat, stirring occasionally until fragrant and lightly toasted, about 5-6 minutes.

Place arugula, pecans, drained onions, and torn basil leaves in a large bowl. (At this point you could refrigerate until serving, placing figs and goat cheese overtop of the greens).

Drizzle the dressing ingredients into the salad bowl (or feel free to mix dressing together in a small jar or bowl first) tossing the salad until all the leaves are lightly coated. Add the figs and goat cheese, and lightly toss to incorporate.

Taste, adjust vinegar and maple to your liking, adding more if you prefer. Serve immediately!
Notes
It helps to use very cold goat cheese or chevre here- makes it much easier to crumble- so leave it the fridge until the last possible moment. You can also place it in the freezer while you prep the salad.
Feel free to sub toasted walnuts– although I think pecans actually do taste better here!
Feel free to swap out gorgonzola cheese for the goat cheese.
This recipe came from Sylvia Fontaine from the  Feasting at Home blog.