Peachy jalapeno guacamole is a delightful and flavorful twist on the classic dip that combines the sweetness of peaches with the spicy kick of jalapenos. With just a few ingredients and simple preparation, you can create a unique guacamole that is both refreshing and vibrant. The creamy avocados, juicy peaches, and fiery jalapenos come together in a harmonious blend of flavors. Whether enjoyed as a dip with tortilla chips or as a condiment for tacos and sandwiches, peachy jalapeno guacamole offers a burst of sweetness and heat that will delight your taste buds. Embrace the creativity of making this flavorful dip and savor its deliciousness with each delectable bite.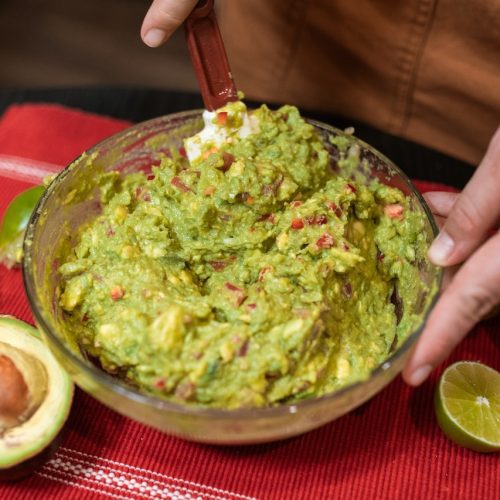 Peachy Jalapeno Guacamole
Fresh jalapenos and summer-ripe peaches give this creamy guacamole so much flavor. It's got a little kick, but I love that it's not so spicy it burns off my taste buds! —Colleen Delawder, Herndon, Virginia
Ingredients
2

medium rice avocados

(peeled and cubed)

2

Tbsp

lime juice

1/2

tsp

kosher salt

1/2

tsp

ground cumin

1/4

tsp

pepper

1

medium

peach

(peeled and finely chopped)

1

jalapeno pepper

(seeded and minced)

2

Tbsp

red onion

(finely chopped)

Tortilla chips

(for serving)
Instructions
Mash avocados with lime juice, salt, cumin and pepper. Gently stir in peach, jalapeno and red onion. Serve with tortilla chips.
Notes
Test Kitchen Tips
Leave the seeds in the jalapeno pepper for extra heat.
We love this guacamole with chips, but it would complement grilled fish or chicken, too.
Wear disposable gloves when cutting hot peppers; the oils can burn skin. Avoid touching your face.
This recipe came from the Taste of Home blog.