Preparing escarole, bacon, and white beans at home is a straightforward and fulfilling culinary adventure. This hearty dish brings together the bitterness of escarole, the savory goodness of crispy bacon, and the creamy texture of white beans. With just a few ingredients and simple cooking techniques, you can create a comforting and nutritious meal that will satisfy your taste buds. Escarole, known for its leafy green goodness, adds a delightful bite to the dish. Combined with the smoky flavor of bacon and the velvety beans, this recipe is a perfect blend of flavors and textures. Experience the joy of homemade cooking as you savor each mouthwatering bite.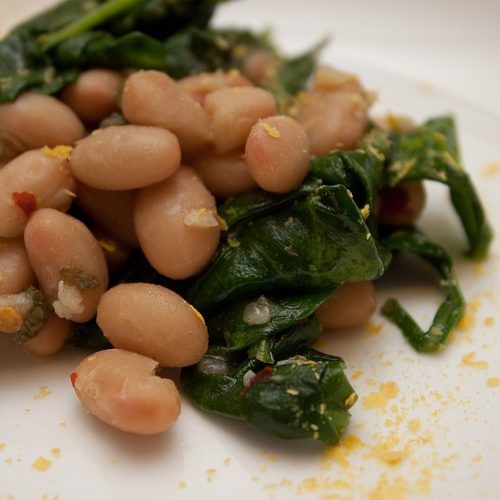 Escarole with Bacon and White Beans
Branch out by trying escarole, a pleasantly bitter selection that contains more fiber than other common salad greens. It works in both raw and cooked applications; here its earthiness complements the creamy beans and smoky bacon. It's also great in soups--toss a handful of chopped escarole into your favorite recipe during the last 10 to 15 minutes of cooking.
Ingredients
2

slices

bacon

(chopped)

1

cup

onion

(chopped)

1

clove

garlic

(thinly sliced)

6

cups

escarole

(chopped, about two 8oz heads)

1

tsp

sugar

1/4

tsp

salt

1

14 oz can

chicken broth

1

16 oz can

cannellini beans or other white beans

(rinsed and drained)
Instructions
Cook bacon in a large saucepan over medium heat until crisp. Remove bacon from pan with a slotted spoon, reserving 2 teaspoons drippings in pan; set bacon aside. 

Add onion to drippings in pan; cook 12 minutes or until golden brown, stirring occasionally. 

Add garlic; cook 2 minutes, stirring frequently.

Add escarole, and cook for 2 minutes or until escarole wilts, stirring frequently. 

Add sugar, salt, pepper, and chicken broth; cook 15 minutes or until escarole is tender, stirring occasionally. 

Add beans; cook for 2 minutes or until thoroughly heated. Sprinkle with bacon.
Notes
This recipe is courtesy of Liz Zack at MyRecipes.