Eggplant Parmesan is a classic and comforting dish that highlights the tender texture of eggplant and the rich flavors of tomato sauce and cheese. With a few basic ingredients and straightforward steps, you can create a delicious and satisfying meal that is both hearty and flavorful. The layers of breaded and fried eggplant slices, smothered in tomato sauce and melted cheese, create a harmonious combination of textures and tastes. Whether served as a main course or as a delightful side, Eggplant Parmesan offers a comforting and indulgent experience that will delight your taste buds. Embrace the simplicity of making this Italian favorite and savor the deliciousness with each bite.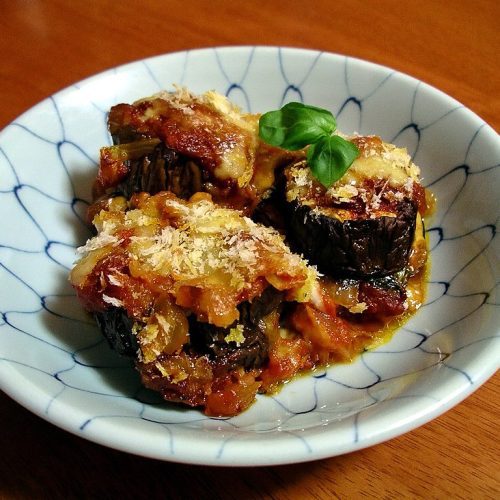 Eggplant Parmagiana
Italian Eggplant Parmigiana is one of the tastiest eggplant dishes ever. Its simplicity of ingredients, rich flavor, and creamy texture will make you fall in love with this delicious meal.
Ingredients
Tomato Sauce
2

Tbsp

extra-virgin olive oil

1

yellow onion

(finely chopped)

3

cloves

garlic

(finely chopped)

4

cups

tomato passata

1/2

tsp

salt

1/4

tsp

black pepper
Oven-Roasted Eggplant
4

lb

eggplant

(about 4 medium eggplants)

1/4

cup

extra-virgin olive oil

3/4

tsp

salt
Other Ingredients
1.5 cups (5 oz)

parmigiano reggiano

(finely grated)

2.5 cups (10 oz)

mozzarella

(grated or chopped)

1.5

cups

basil leaves
Instructions
Make Tomato Sauce
In a large pan with low edges, gently fry the finely chopped onion in oil for 3 minutes. Add finely chopped garlic and fry for one more minute.

Add tomato passata, salt, and pepper, and simmer on medium to low heat for 30 minutes, stirring occasionally. In the meantime, bake the eggplants.
Bake The Eggplants
Preheat the oven to 430°F or 220°C. Line three large baking trays with parchment paper.

Wash and dry the eggplants and remove their stems. Cut the eggplants into ⅕ inch (0.5 cm) slices.

Arrange eggplant slices on the baking trays on a single layer without overlapping. Brush with olive oil and sprinkle with salt.

Bake at 430°F or 220°C for about 25 to 30 minutes, until the eggplant slices are slightly golden brown on top.
Assemble The Parmigiana
We make a parmigiana with four layers of eggplant slices, and the last layer has more sauce, parmesan, and mozzarella than the other layers. Keep this in mind when you add the sauce and the cheese.

Add just a bit of tomato sauce to a large baking dish or casserole (9 x 13 inches | 23 x 33 cm).

Add the first layer of eggplant slices. Arrange them tightly but without overlapping. Cut the slices with scissors if they are too large.

Cover with a ladleful of tomato sauce and spread it with a spoon.

Drizzle with a couple of handfuls of finely grated parmesan cheese, a sprinkle of grated or chopped mozzarella cheese, and a handful of basil leaves.

Cover with the second layer of eggplant slices, this time arranged in the opposite direction.

Add a ladleful of tomato sauce, then parmesan, mozzarella, and basil like before.

Repeat with two more layers of eggplant (4 eggplant layers in total).The last layer should have more tomato sauce, parmesan, and mozzarella than the other layers. Do not add basil on top.
Bake The Parmigiana
Bake the eggplant parmigiana in a preheated oven at 350°F or 180°C for 30 minutes until the tomato is bubbling and the cheese melts.

Let cool down for 15 minutes. Then garnish with fresh basil leaves and cut into eight portions with a sharp knife. Serve with a simple side salad.
Notes
TIPS
Do not add water to the tomato sauce. The tomato sauce should be quite dense by the end and not watery at all.
Don't cut eggplant slices too thick; the parmigiana won't be as yummy.
You can bake the three trays of eggplant slices simultaneously, but you have to switch them around as they cook. Using the fan-assisted function of the oven helps distribute the heat when the oven is crowded.
All slices must get golden brown on top. The eggplant is tastier this way, and less watery, making a creamier and richer parmigiana.
It's important to let the parmigiana cool down 15 to 30 minutes before serving it.
This recipe is courtesy of Nico Pallotta from The Plant-Based School.