Asparagus risotto is a creamy and flavorful dish that showcases the vibrant taste of asparagus in a comforting way. With a handful of ingredients and simple cooking techniques, you can create a delightful risotto that is both satisfying and indulgent. The tender asparagus spears, combined with the creamy Arborio rice, create a harmonious blend of textures and flavors. Whether enjoyed as a main course or as a side dish, asparagus risotto offers a delightful balance of earthy asparagus and creamy rice, resulting in a luxurious dish that will please your taste buds. Embrace the process of making this risotto and savor its deliciousness with every luscious spoonful.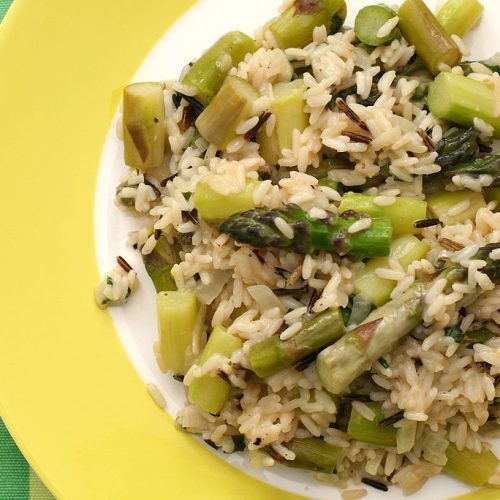 Asparagus Risotto
This asparagus risotto recipe is a fresh, satisfying vegetarian dinner. Serve it with a simple salad and a glass of white wine for a perfect spring meal!
Ingredients
1

Tbsp

extra-virgin olive oil

2

cups

chopped leeks

1/2

tsp

sea salt

(or to taste)

2

cloves

garlic

(minced)

1

cup

uncooked Arborio rice

(rinsed)

1/2

cup

dry white wine

4

cups

vegetable broth

(room temperature)

1

bunch

asparagus

(tough ends trimmed, stalks chopped into small pieces)

1

Tbsp

fresh lemon juice

2

Tbsp

chopped chives

1/4

cup

fresh herbs

(parsley, basil, tarragon, and/or dill, plus more for garnish)

Lemon zest

(for garnish)

Grated pecorino cheese

(optional)

Freshly ground black pepper

(for garnish)
Instructions
Heat the olive oil in a large skillet or medium Dutch oven over medium heat. Add the leeks and season with the salt and a few grinds of pepper. Cook, stirring occasionally, for 4 to 5 minutes, or until soft. Add the garlic and stir to incorporate. Stir in the rice and let it cook for 1 minute. Stir in the wine and cook for another 1 to 2 minutes, or until the wine cooks down.

Add the broth, ¾ cup at a time, stirring continuously between each addition. Allow each addition of broth to be absorbed by the rice before adding the next. Add the asparagus with the last addition of the broth. Cook until the rice is al dente. The risotto should be soft and creamy.

Add the lemon juice, chives, and mixed herbs and season to taste. Garnish with the lemon zest and more herbs. Serve with grated cheese, if desired.
Notes
This recipe came from the Love and Lemons blog.