Dill-pickled green beans are a tangy and crunchy treat that showcases the natural freshness of green beans with the delightful flavor of dill. With minimal ingredients and simple preparation, you can create a homemade batch of pickled green beans that is both flavorful and versatile. The combination of the crisp green beans and the aromatic dill creates a delightful balance of textures and tastes. Whether enjoyed as a refreshing snack, a flavorful addition to salads, or a tangy accompaniment to sandwiches, dill-pickled green beans offer a burst of flavor that will tantalize your taste buds. Embrace the ease of making these pickles at home and savor their deliciousness with every crunchy bite.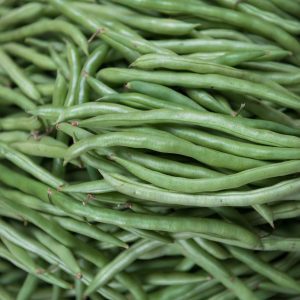 Pickled Dilly Beans (Dill-Pickled Green Beans)
Pickled dilly beans are a real treat, and many would argue that they're much better than regular pickled cucumbers.  Make dill pickled green beans at home and find out for yourself!
Equipment
Canning jars with lids and bands

Water bath canner
Ingredients
2

lb

green beans

(ends trimmed)

2.5

cups

vinegar

(5% acidity)

1

cup

water

3

Tbsp

canning salt

3/4

tsp

crushed red pepper flakes

6

sprigs

fresh dill

3-6

cloves

garlic

(peeled)
Instructions
Wash beans and trim the stem ends.  Trim both ends if you like uniformity, but the tail end is the tender end so you can leave it intact.  I start by measuring one bean to 1 inch below jar height, and then cut them all to the same length so they pack well into the jar.

Pack the green beans into wide mouth pint jars and top each jar with 1/4 tsp. red pepper flakes, 2 dill sprigs and 1-2 garlic cloves.  Be sure to leave just over 1/2 inch headspace.

Combine vinegar, water and canning salt and bring to a boil on the stove to make a hot brine.  Pour the hot brine over the beans in jars, leaving 1/2 inch headspace.

Seal the jars with new canning lids, tighten on bands, and process in a water bath canner for 10 minutes adjusting for altitude.

Remove the jars from the canner and allow to stand at room temperature for a few hours until they've "popped" and completely sealed.  Store any unsealed jars in the fridge and use immediately.

For sealed jars, remove the canning bands and store in the pantry at room temperature.
Notes
This recipe is from Ashley Adamant at Creative Canning.