Baked sweet potatoes with pesto are a delicious and satisfying dish that combines the natural sweetness of sweet potatoes with the vibrant flavors of homemade pesto. With minimal preparation and a handful of ingredients, you can create a wholesome and flavorful meal or side dish. The creamy and tender flesh of the sweet potatoes pairs perfectly with the fresh and herbaceous pesto, creating a delightful balance of flavors. Whether enjoyed as a vegetarian main course or as a flavorful side, this dish is a nourishing and easy way to incorporate the goodness of sweet potatoes and the boldness of pesto into your meals.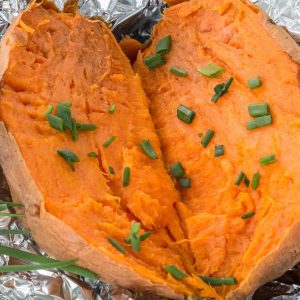 Baked Sweet Potatoes with Tatsoi Pesto
These Baked Sweet Potatoes with Tatsoi Pesto is my final recipe for our Bloomsbury Farm CSA recipe cards. It has been such a fun season and I have loved creating recipes for my favorite farm.
Ingredients
1

bunch

tatsoi

(4 cups chopped)

1/2

cup

fresh basil

3

cloves

garlic

1/2

cup

pecan halves

3/4

cup

grated Romano cheese

1

tsp

dried oregano

1/2

tsp

black pepper

1

tsp

salt

2

tsp

honey

1/3

cup

lemon juice

1/4

cup

olive oil

4

medium

sweet potatoes

(baked)
Instructions
Remove the bottom few inches of the tatsoi and then loosely chop the rest. Add it to the food processor with the basil, garlic, pecans and romano and pulse in to small pieces.

Add the oregano, pepper, salt, honey, lemon juice and olive oil and pulse until combined.

Serve over baked sweet potatoes and store the rest of the pesto in an airtight container in the refrigerator.

Feel free to get creative and add any of your favorite toppings or protein.