Homemade blackberry jam is a delightful and naturally sweet spread that celebrates the rich flavors of fresh blackberries. With minimal ingredients and simple cooking techniques, you can create a luscious jam that is both flavorful and versatile. The juicy blackberries, combined with sugar and lemon juice, naturally thicken and form a delightful jam consistency. Whether spread on warm toast, used as a filling for pastries, or added to your favorite desserts, homemade blackberry jam offers a burst of fruity goodness that will elevate your culinary creations. Embrace the joy of making this jam at home and savor its deliciousness with every sweet and tangy bite.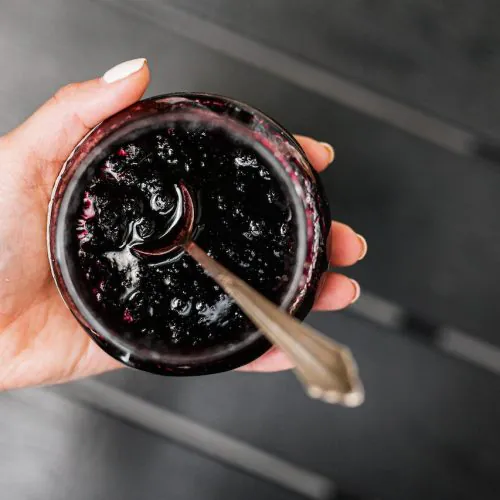 Homemade Blackberry Jam
Packed with the flavor of ripe summer blackberries, this Homemade Blackberry Jam is a seasonal favorite in our house!
Ingredients
16

oz

fresh blackberries

(~4 cups)

1.75

cups

granulated sugar

1/2

Tbsp

lemon juice

2

Tbsp

cornstarch

2

Tbsp

water
Instructions
Wash berries and place them in a medium saucepan over low heat. Once the berries are warm, muddle them in the saucepan until no large pieces remain. (Optional: Use a food mill at this point to deseed the mixture.)

Add the sugar and lemon juice; stir until well combined.

Using a separate bowl, mix the cornstarch and water until well combined. Add this mixture to the saucepan; stir until well combined.

Increase heat to medium-low, and bring to a boil. Stir frequently to ensure jam doesn't burn.

Once the jam reaches 220°F degrees (~15-20 minutes), remove it from the heat and allow it to cool at room temperature. (If needed, you can skim and discard any foam that may be on top.)

Once cool, store in an airtight container in the refrigerator.