Creamy cucumber radish salad is a refreshing and delightful dish that combines the cool crunch of cucumbers with the crispness of radishes. With minimal ingredients and simple preparation, you can create a creamy and tangy salad that is both light and satisfying. The combination of the fresh cucumbers and peppery radishes creates a harmonious blend of flavors and textures. Whether enjoyed as a side dish or a refreshing snack, creamy cucumber radish salad offers a burst of freshness and a creamy dressing that complements the vegetables perfectly. Embrace the simplicity of making this flavorful salad and enjoy its refreshing taste with every bite.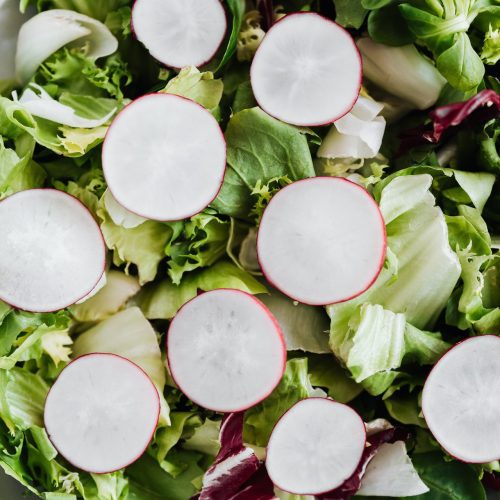 Creamy Cucumber Radish Salad
This Creamy Cucumber Radish Salad is light, crunchy, and just downright refreshing. Easy to prep in about 10 minutes, the radishes are beautifully balanced with the cool cucumbers and creamy dill dressing. The perfect veggie side dish!
Ingredients
4

mini or Persian cucumbers

(or 1 large English cucumber)

1

bunch

radishes

3

Tbsp

chopped fresh dill

(or 2 tsp dried dill)

1/4

cup

chopped fresh chives

(or 1/2 cup thinly sliced scallions)

1/3

cup

plain Greek yogurt

2

Tbsp

extra-virgin olive oil

2

tsp

red wine vinegar

(or apple cider vinegar)

1

tsp

honey

1/2

tsp

kosher salt

1/4

tsp

garlic powder

Freshly ground black pepper

(to taste)
Instructions
Thinly slice radishes and cucumbers using either a sharp knife or a mandolin.

Place thinly sliced cucumbers, radishes, dill, and chives in a large bowl. Mix to combine.

In a separate bowl or large liquid measuring cup, whisk together the yogurt, olive oil, vinegar, honey, salt, garlic powder, and pepper.

Pour dressing over the vegetables and toss to coat. Once dressing is mixed with the cucumbers, the cucumbers begin to release liquid, so the salad is best when eaten right away.

To make ahead, cover and store the vegetables and dressing separately in the refrigerator for up to a day. Toss with dressing, then serve.
Notes
If you are using a regular (not Persian or English) cucumber, you will want to peel it and remove some of the seeds. To remove the seeds, cut the cucumber in half lengthwise then use a spoon to scoop out some of the seeds. Discard the seeds then slice the cucumber into thin half circles.
What kind of yogurt to use: I like using a whole milk or 2% plain Greek yogurt for this recipe. However, you can use any kind of plain Greek yogurt you like. Regular yogurt will not work as well in this recipe because it has too much liquid and the dressing will not be thick enough to coat the vegetables.
Instead of yogurt, you could use sour cream or a mixture of mayonnaise and either yogurt or sour cream.
Sweetener: I like to add a touch of honey to balance out the sour flavor of the yogurt and vinegar. Instead of honey you can use white sugar or any other sweetener of your choice to taste. You can also leave it out if you prefer, but the dressing will be a little tangier.
This recipe is courtesy of Taesha Butler at The Natural Nurturer.