Air fryer snap peas are a quick and delicious snack or side dish that highlights the natural sweetness and crispness of snap peas. With just a drizzle of oil and a sprinkle of seasoning, you can achieve perfectly cooked and crunchy snap peas in no time. The air fryer method locks in the vibrant green color and enhances the natural flavors of the peas. Whether enjoyed as a healthier alternative to traditional fried snacks or as a flavorful addition to your meals, air fryer snap peas offer a delightful way to enjoy this nutritious vegetable with minimal effort. Embrace the simplicity of using the air fryer and savor the delightful crunch of these tasty snap peas.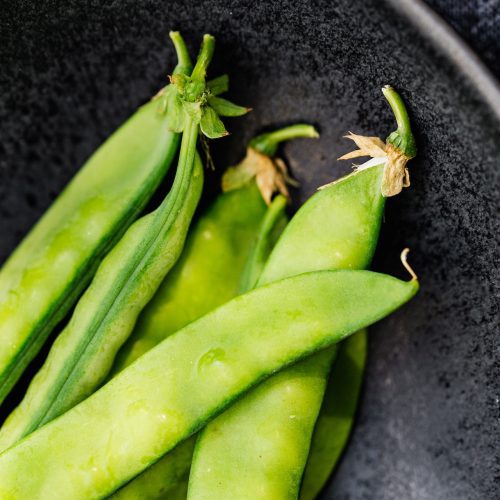 Air Fryer Snap Peas
Air Fryer Snap Peas have such a vibrant green color along with a touch of sweetness and roast flavor in every bite, done in just minutes!
Ingredients
2

cups

snap peas

(fresh)

1

Tbsp

sesame oil

1

tsp

minced garlic

1/2

tsp

kosher salt
Instructions
Rinse snap peas under cool water and pat them dry completely with paper towels. Trim ends and then place snap peas in a medium-sized bowl. 

Measure and pour sesame oil, garlic, and salt over snap peas. Toss peas in bowl with oil mixture until they are fully coated. 

Transfer peas to the air fryer basket, spreading them out in a single layer so they don't overlap and can cook evenly.

Air Fry at 380 degrees F for 6-8 minutes. Serve when finished cooking.
Notes
Optional Flavors: Adding extra seasonings can really change up this side dish. For extra flavors, add a pinch of black pepper, chili powder, a tablespoon soy sauce, red pepper flakes, Cajun seasoning, lemon juice, garlic powder, blackening seasoning or parmesan cheese. Optional Toppings: You can top these peas with pickled onions, crumbled bacon bits, diced peppers, scallions, chop walnuts, pumpkin seeds or almonds into pieces. Black or toasted sesame seeds will also add extra crunch. Optional Favorite Dipping Sauce: Any favorite dipping sauce such as teriyaki sauce, Greek yogurt with a bit of spice, garlic hummus, mustard sauce or hot chili sauce, are all perfect for dipping. Cooking Tips: These are super tasty at room temperature, warm or hot. To ensure they are super crispy spritz basket with olive oil spray prior to cooking. Substitutions: If you do not have sesame oil use a tablespoon olive oil.