Get The Most Out of Your Collard Greens from Backyard Eats
Harvesting Collard Greens
When It's Ready
Start picking outer leaves when plants are 1 foot tall
The optimal time to harvest is late fall
Frosts improve flavor without harming collards
How To
Snap or cut mature leaves at the base near its connection to the crown
Harvest the biggest couple of leaves from each plant
Leave smaller inner leaves to continue growing. New leaves will grow for harvest in 1-2 weeks
Collard greens are a leafy vegetable that are known for their dark green color and slightly bitter taste. Collard greens are typically used as a cooking ingredient, and can be boiled, sautéed, or steamed. They are often used in Southern cuisine, where they are traditionally simmered with ham hocks or other smoked meats for flavor. Collard greens can also be used as a healthy alternative to tortillas or bread, and are sometimes used as a wrap for sandwiches or other fillings.
Fresh is best for this vegetable, but here are some tips if you can't cook the day of harvest.
Fresh Storage: Place in airtight bags or containers and refrigerate. Don't crush leaves, but it's ok to compress gently to save on bag space.
Long-Term Storage: Freeze whole leaves: Blanch in boiling water, dunk in ice bath to retain color, dry, and freeze in storage bag.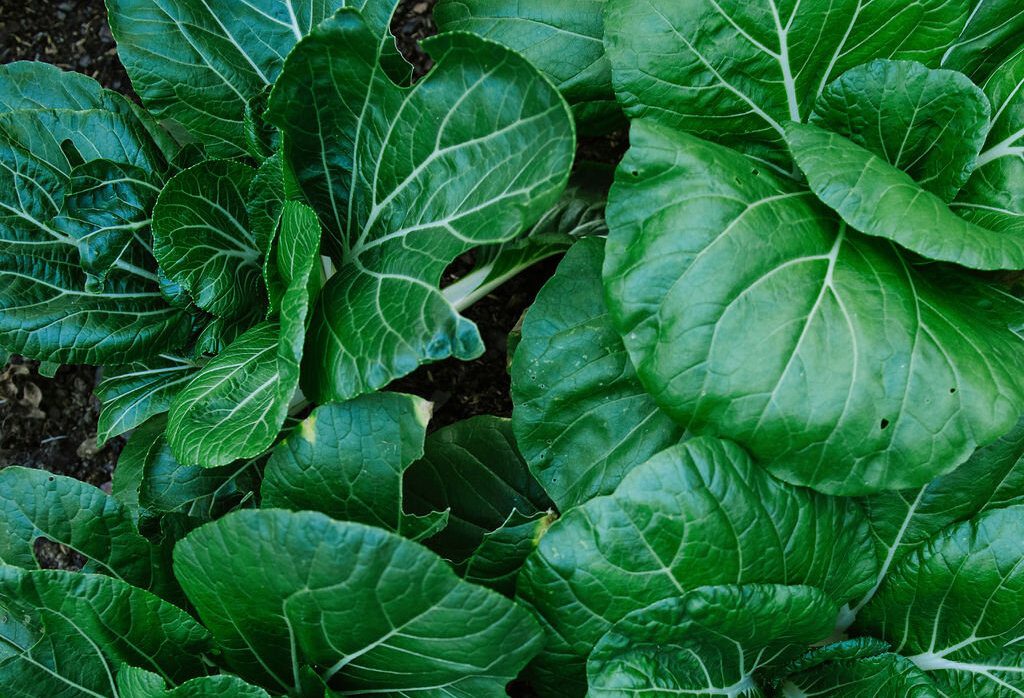 Cooking With Collard Greens
Southern-Style Collard Greens: Sauté chopped collard greens with onions, garlic, and smoked ham hock or bacon for a traditional Southern dish. Slow cook the greens in broth or water until they are tender and flavorful. Season with salt, pepper, and a dash of vinegar for an authentic taste.
Collard Green Wraps: Use blanched or steamed collard green leaves as a healthy and gluten-free alternative to tortillas. Fill them with your favorite ingredients such as hummus, roasted vegetables, grilled chicken, or tofu for a nutritious and satisfying wrap.
Collard Green Salad: Massage chopped collard greens with lemon juice or a vinaigrette dressing to soften their texture. Toss them with diced tomatoes, cucumbers, and avocado for a refreshing and nutrient-packed salad.
Collard Green Stir-Fry: Stir-fry collard greens with other vegetables like bell peppers, onions, and mushrooms. Add soy sauce, ginger, and garlic for a flavorful Asian-inspired stir-fry. Serve it over rice or noodles for a complete meal.
Collard Green Chips: Toss collard green leaves with olive oil, salt, and your choice of seasonings (such as paprika or cayenne pepper). Bake them in the oven until they become crispy, creating a healthier alternative to potato chips.
Try These Collard Greens Recipes: