Crafting a frisée salad with warm bacon vinaigrette at home is a gratifying and straightforward experience. This salad combines the crisp bitterness of frisée lettuce with a luscious, savory bacon vinaigrette that is gently warmed to perfection. With just a handful of ingredients, you can create a salad bursting with contrasting flavors and textures. The frisée adds a delightful crunch, while the warm bacon vinaigrette adds richness and a hint of smokiness. As you toss the salad and the vinaigrette coats each leaf, you'll witness a harmony of flavors that will leave your taste buds satisfied. Revel in the simplicity of making this satisfying salad in your own kitchen, impressing your guests or treating yourself to a restaurant-worthy dish.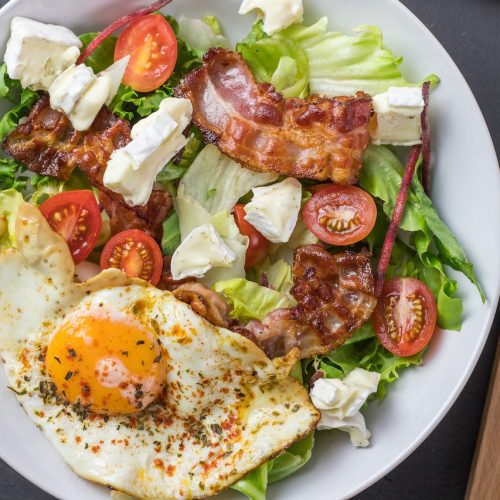 Frisée Salad With Warm Bacon Vinaigrette
Poaching eggs is one of those cooking techniques that's shrouded in mystery—but for no good reason! We have two tricks that will help you poach with confidence—even if it's the first time—and yield runny yolks surrounded my firm but not bouncy whites. Perch one atop a French bistro-style salad and magic happens: The yolks mingle with the bacon vinaigrette (that's right—we're using bacon renderings as the fatty element of the salad dressing) to create a rich sauce that coats the lettuce and the crunchy-soft croutons. We're calling for 1 poached egg per salad in this recipe, but if you're really hungry and want to make a more filling meal of it, go ahead and poach 2 eggs per person. The method is the same. 
Ingredients
1/4

baguette

6

oz

thick-cut bacon

(about 6 slices)

1

large shallot

1/2

small bunch

chives

8

cups

frisee

(about 1 large head)

3

Tbsp

extra-virgin olive oil

Kosher salt

Freshly ground black pepper

1/4

cup

red wine vinegar

1

Tbsp

honey

2

large eggs
Instructions
Bring a medium saucepan of water to a boil. Meanwhile, tear ¼ baguette into 1" irregular craggy pieces (these will be your croutons). Cut 6 oz. thick-cut bacon crosswise into ¾" strips. Peel 1 large shallot, then thinly slice crosswise. Slice ½ small bunch of chives into ¾" batons.

Thoroughly wash and dry 8 cups frisée. Transfer to a large bowl.

Heat 3 Tbsp. extra-virgin olive oil in a medium skillet over medium until shimmering. Add torn bread and stir well to evenly coat in oil. Reduce heat to medium-low and cook, stirring occasionally, until golden brown and crisp in some areas, 4–5 minutes. You aren't looking for croutons that are crisp all the way through—just some good browning on the outside. Season with kosher salt and freshly ground black pepper and transfer to a plate. Let cool; reserve skillet.

Return skillet to medium heat. Cook bacon, stirring frequently, until just shy of crisp, 4–5 minutes.

Add shallots and ½ tsp. pepper and continue to cook, stirring occasionally, until shallots are just softened, about 2 minutes. Remove skillet from heat and stir in ¼ cup red wine vinegar, scraping bottom of skillet to collect all those yummy bits.

Add 1 Tbsp. honey, stirring to combine. Taste the dressing—if it feels like it needs a little bit more acidity, add a splash of vinegar. Every type of bacon will render out a different amount of fat, and it's that fat that will balance out the acidic vinegar, so you have to use your judgement.

Time to poach 2 eggs! Crack each egg into small separate bowls. Working over another bowl or the sink, carefully tilt bowl into a fine-mesh sieve, allowing excess white to slip through. This leaves behind a smaller orb of egg white that surrounds the yolk and ensures that your poached eggs won't have those scraggly, tail bits. Transfer egg to a medium shallow bowl. Repeat with remaining egg and transfer to same medium bowl.

Carefully lower rim of medium bowl into saucepan of boiling water. Tilt bowl so each egg gently drops into the water, one by one. Turn off heat and set a timer for 3 minutes. Poaching the eggs in hot, unmoving water, allows them to cook super gently.

While eggs cook, toss lettuce, bacon vinaigrette, croutons, and chives to combine; season with salt. Divide salad between bowls.

Back to those eggs. Using a slotted spoon, scoop up each egg and lightly blot on a clean kitchen towel or paper towels to remove any water clinging on.

Transfer egg to top of each salad; season eggs with salt and pepper.