Strawberry rhubarb cake is a delectable and delightful dessert that combines the luscious sweetness of strawberries with the tartness of rhubarb. With minimal effort and a handful of ingredients, you can create a moist and flavorful cake that is sure to impress. The juicy strawberries and tangy rhubarb create a harmonious flavor profile that dances on your taste buds. Whether enjoyed on its own or with a dollop of whipped cream, strawberry rhubarb cake is a delightful treat that celebrates the flavors of the season. Indulge in the simplicity of making this scrumptious cake and savor every blissful bite.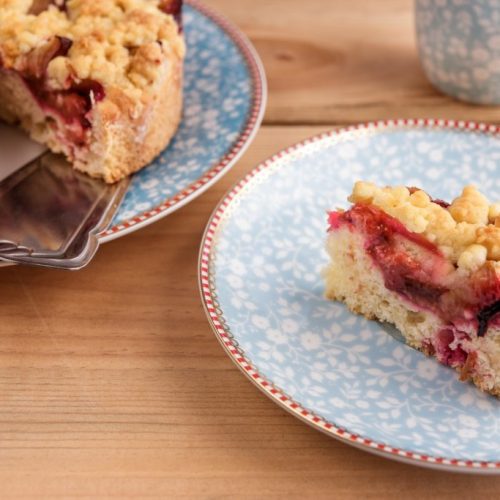 Strawberry Rhubarb Cake
Sweet strawberries and tart rhubarb are combined in this buttery handheld cake, creating a light, summery Strawberry Rhubarb Cake that gets rave reviews every time I make it.
Ingredients
3

eggs

2

cups

sugar

3/4

cup

butter

(softened)

1

tsp

vanilla

2

cups

all-purpose flour

(see below for gluten-free alternative)

2

cups

strawberries

(washed, dried as much as possible, and chopped very small)

1

cup

rhubarb

thinly sliced and chopped
Instructions
Preheat oven to 350 degrees. With a mixer, beat the eggs with the sugar until slightly thickened and light in color, about 5-7 minutes. The mixture should almost double in size. The eggs work as your leavening agent in this recipe, so do not skip or shorten this step. This mixture should form a ribbon when you lift the beaters out of the bowl.

Add the butter and vanilla; mix two more minutes. Add the flour and mix until just combined. Add the rhubarb and strawberries and stir to mix throughout.

Spread in a buttered 9x13 pan. Bake for 40-50 minutes, or until very lightly browned and a toothpick inserted near the center of the cake comes out clean. (43 minutes typically works for me.) Let cool completely before cutting into small slices. Enjoy!
Notes
Gluten Free Substitution: 1 ¼ cup brown rice flour + ½ cup potato starch + ¼ cup tapioca starch + 1 teaspoon xanthan gum may be substituted for the amount of all-purpose flour listed in the ingredients above.
This recipe is courtesy of Molly Younkin at Barefeet in the Kitchen.