Spinach and strawberry salad is a delightful and refreshing combination that brings together the crispness of spinach with the sweetness of juicy strawberries. With just a handful of ingredients and simple preparation, you can create a vibrant and nutritious salad that is both satisfying and visually appealing. The tender spinach leaves provide a fresh and earthy backdrop for the burst of flavor from the ripe strawberries. Tossed together with a light dressing, this salad is a perfect balance of sweet and savory, making it a delightful addition to any meal or a standalone dish.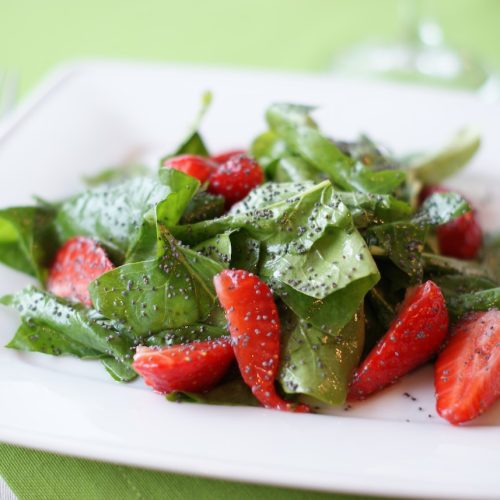 Spinach & Strawberry Salad
This spinach and strawberry salad is light and refreshing.
Ingredients
Salad Base
2

bunches

raw spinach

(washed, drained, and torn apart)

1

cup

fresh strawberries

(washed and cut in half)
Salad Dressing
1/2

cup

sugar

1

tsp

dry mustard

1

tsp

salt

1/2

tsp

celery seed

3

Tbsp

grated onion

1

cup

vegetable oil

1/3

cup

wine vinegar

(e.g. red wine vinegar)
Instructions
Mix sugar, mustard, salt, celery seed, onion, oil and vinegar.

Pour over spinach and strawberries just before serving.  Toss to mix well.