Pan con tomate is a simple and flavorful dish that highlights the vibrant taste of tomatoes with the rustic charm of crusty bread. With just a handful of ingredients and minimal preparation, you can create a delightful appetizer or snack that is both satisfying and refreshing. The ripe tomatoes are grated or crushed, then spread onto toasted bread, allowing their natural juices to infuse the bread. Whether enjoyed as a light breakfast, a quick snack, or a side dish, pan con tomate offers a burst of fresh flavors and a delightful combination of textures. Embrace the simplicity of making this traditional Spanish dish and savor its deliciousness with each savory bite.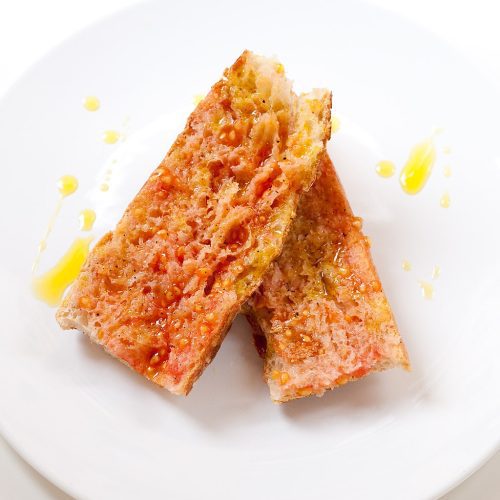 Pan Con Tomate (Spanish Tomato Toast)
An easy and delicious recipe for Pan con Tomate, a traditional Spanish tapa or breakfast that's so simple and the perfect use for summer tomatoes!
Ingredients
1

loaf

whole grain or sourdough bread

1

clove

garlic

2

large

ripe tomatoes

(or 3-4 small)

extra-virgin olive oil

coarse sea salt

(to taste)
Instructions
Turn the oven on to the broil setting.

Slice bread ½ inch thick and place on a baking sheet. Drizzle lightly with olive oil. Toast under the broiler for 3-5 minutes, or until crisp and golden.

Cut garlic clove in half and rub onto one face of the toast.

Use a large-holed cheese grater to grate the tomato into a medium bowl, discarding the large piece of skin when you get to the end.

Spoon tomato mixture over pieces of toast.

Drizzle with olive oil and sprinkle with salt.
Notes
Extra grated tomato can be stored in an airtight container in the refrigerator for up to 3 days.
The key to the best tasting pan con tomate is good quality ingredients - fresh bread, ripe summer tomatoes, and good olive oil.
This recipe is courtesy of Kaleigh McMordie from Lively Table