This butternut squash, kale, and gnocchi skillet is a comforting and flavorful dish that brings together the earthy sweetness of butternut squash, the hearty goodness of kale, and the pillowy texture of gnocchi. With just a few ingredients and simple steps, you can create a satisfying one-skillet meal that is both nourishing and delicious. The tender butternut squash, wilted kale, and perfectly cooked gnocchi blend harmoniously, offering a balance of flavors and textures. Whether served as a comforting weeknight dinner or a crowd-pleasing side dish, this skillet dish is a delightful way to enjoy the flavors of the season. Embrace the ease of preparation and relish in the delectable combination of ingredients with each comforting bite.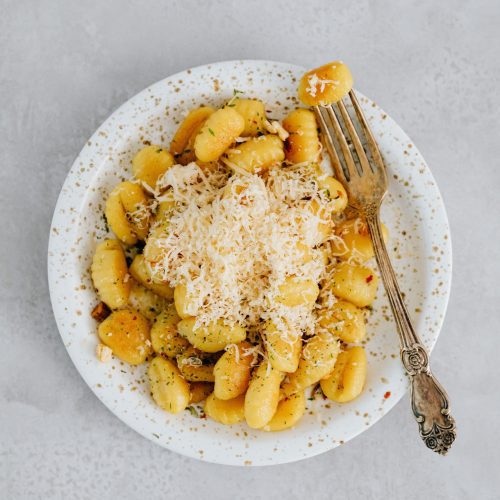 Butternut Squash, Sausage, and Kale Gnocchi Skillet
Butternut Squash, Sausage, and Kale Gnocchi Skillet is an easy one pan meal that's full of fall flavor! This balanced dinner is just what you need when you're craving healthy comfort food!
Ingredients
2

links

Italian turkey sausage

(casings removed)

1

Tbsp

olive oil

1/2

cup

yellow onion

(diced)

3

cups

butternut squash

(peeled and cubed into 1/2" cubes)

1

clove

garlic

(grated or minced)

1

tsp

fresh rosemary

(chopped)

1/4

tsp

ground nutmeg

1/4

tsp

red pepper flakes

(optional)

16

oz

gnocchi

4

cups

chopped kale

(can substitute spinach)

1.25

cups

low-sodium chicken broth

1/2

cup

part-skim mozzarella cheese

(shredded)
Instructions
Over medium-high heat, spray a skillet with cooking oil or drizzle in about a teaspoon. Squeeze the sausage out of the casing and into the skillet. Use a potato masher or wooden spoon to crumble the sausage. Once the sausage is cooked through remove it from the skillet and onto a plate lined with paper towels to soak up any excess grease.

Add a tablespoon olive oil to the skillet along with the diced onion and cubed butternut squash. Season with salt and pepper. Cook the vegetables over medium heat stirring frequently.

When the squash is tender, approximately 8-10 minutes, add garlic, rosemary, nutmeg, and red pepper flakes. Cook another minute and then pour in the chicken broth. Scrape up any of the brown bits from the bottom of the skillet then stir in the gnocchi and kale.

Cover the skillet with a lid and simmer over medium-low heat until the gnocchi is tender, about 5 minutes. Remove the lid and stir in the sausage. Taste for seasoning. Sprinkle the mozzarella over the top of everything and cover with the lid again. Cook for a couple more minutes or until the cheese is melted. Serve immediately.