Get The Most Out of Your Dill from Backyard Eats
When It's Ready
When the plant has unfurled green leaves
When the plant is 4-6 inches tall
When It's Too Late
Dill produces flowers and seeds in less than 2 months (much faster in the heat of summer)
When this happens, plants stop replacing harvested leaves with new ones, opting for upright growth and flowering instead*
Harvest frequently, until leaf yield is too little to warrant harvest
*Dill is both beautiful and functional when in the flowering and seed stage, but to continue leaf harvest, a new crop is usually started instead of growing the plant out.
How To
Pick a few leaves or stems if that's all you need
Clear-cut stems at the base of the plant with a sharp serrated knife or scissors if a larger quantity is needed
Leave a couple inches of stem and some bottom leaves to allow for regrowth.
Dill will regrow 2-3 weeks after harvest
Dill is a fragrant herb that is commonly used in cooking to add flavor and aroma to a variety of dishes. It has a unique taste that is slightly sweet, with a hint of tanginess and a subtle anise-like flavor. Dill can be used in a variety of recipes, including soups, stews, salads, and sauces. One popular way to use dill is in dips and spreads, such as tzatziki or hummus. Another popular use for dill is in fish dishes.
Fresh Storage: Trim stems and put in a glass with water and bag over the top. Leave on the counter, or place in the refrigerator for added storage time. Change water daily.
Of course, you can just put leaves in airtight bags or containers and refrigerate. Wash before using.
Long-Term Storage: Freezing in ice cubes (most convenient), or air drying.
Fresh is best: Consider adding raised beds or elevated planters close to the kitchen so you can grab these herbs while you're cooking.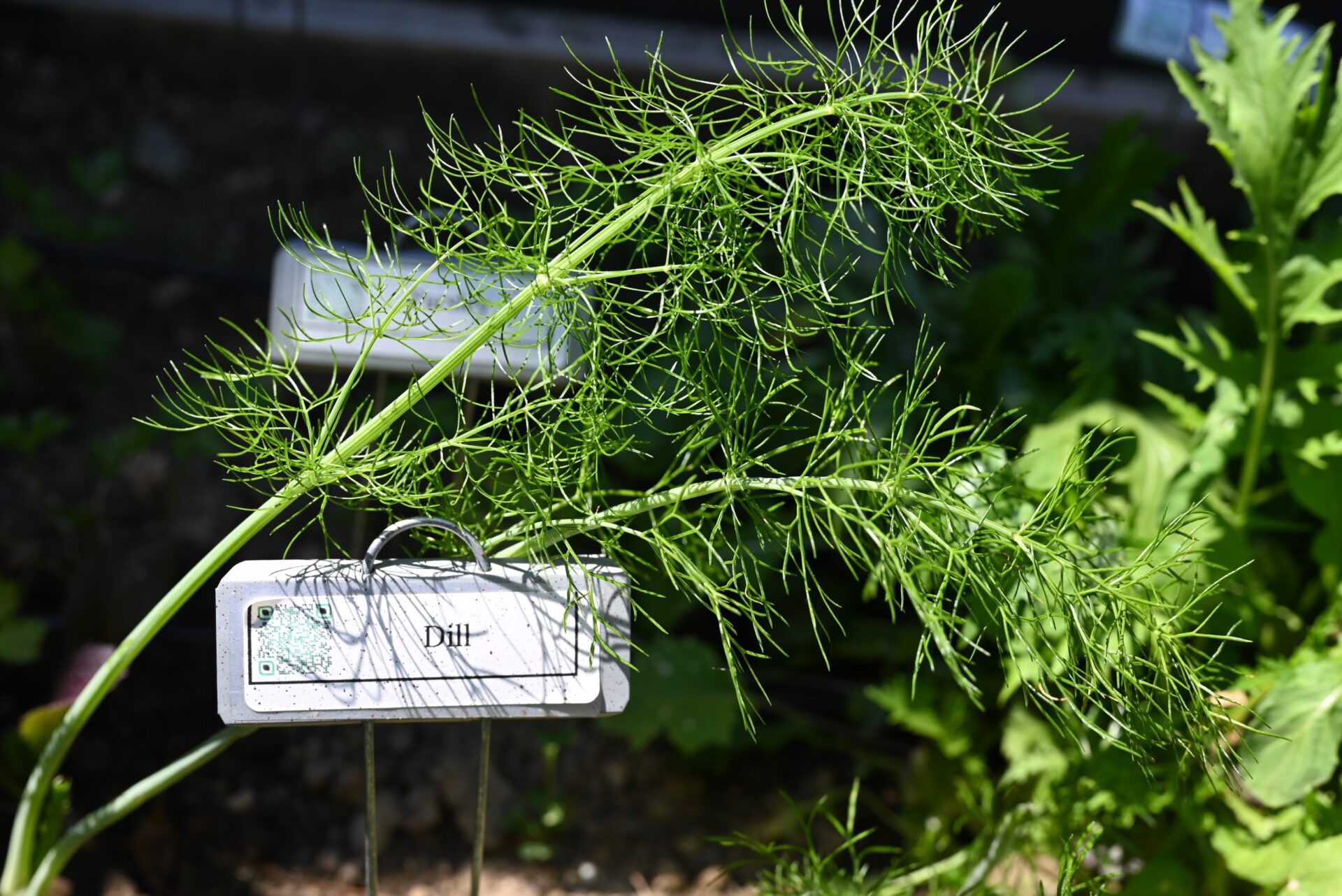 Dill Potato Salad: Toss boiled and diced potatoes with a dressing made from mayonnaise, sour cream, chopped dill, Dijon mustard, and a squeeze of lemon juice. Season with salt and pepper for a creamy and herbaceous potato salad.
Lemon-Dill Baked Salmon: Season salmon fillets with salt, pepper, and a generous amount of chopped dill. Drizzle with lemon juice and bake until the fish is flaky and the dill creates a fragrant crust.
Dill Yogurt Sauce: Mix chopped dill with Greek yogurt, minced garlic, lemon zest, salt, and pepper. Use it as a refreshing and tangy sauce for grilled meats, roasted vegetables, or as a condiment for falafel or gyros.
Dill Pickles: Create your own homemade dill pickles by brining cucumbers in a mixture of water, vinegar, salt, garlic, and fresh dill sprigs. Let them sit in the refrigerator for a few days to develop a deliciously tangy and dill-infused flavor.
Dill Butter: Mix softened butter with chopped dill, minced garlic, salt, and a squeeze of lemon juice. Use it to top steamed vegetables, grilled corn on the cob, or spread it on crusty bread for a flavorful and herb-infused butter.