Get The Most Out of Your Broccoli Raab from Backyard Eats
When It's Ready
Usually within 40-60 days of planting
When the plant produces leaves and reaches around 10-15 inches in height
Note: broccoli raab does not produce a full "head" of traditional broccoli, but a set of edible side shoots
When It's Too Late
When plants begin to produce yellow flowers (aka bolt), which makes them bitter and unpalatable
How To
Use a sharp knife to cut the stems a few inches away from the base of the plant
Harvesting regularly will encourage the growth of side shoots throughout the season
Broccoli raab, also known as rapini, is a vegetable that has a slightly bitter and nutty flavor, similar to broccoli but with a sharper edge. It is a member of the Brassica family, which includes broccoli, cabbage, and kale. When cooked, broccoli raab can be steamed, sautéed, or roasted. It is often blanched before cooking to reduce its bitterness. To prepare, trim the stem ends and remove any tough or woody parts.
Varieties of Broccoli:
Broccoli Raab
Store in the fridge in a slightly ventilated container for about one week.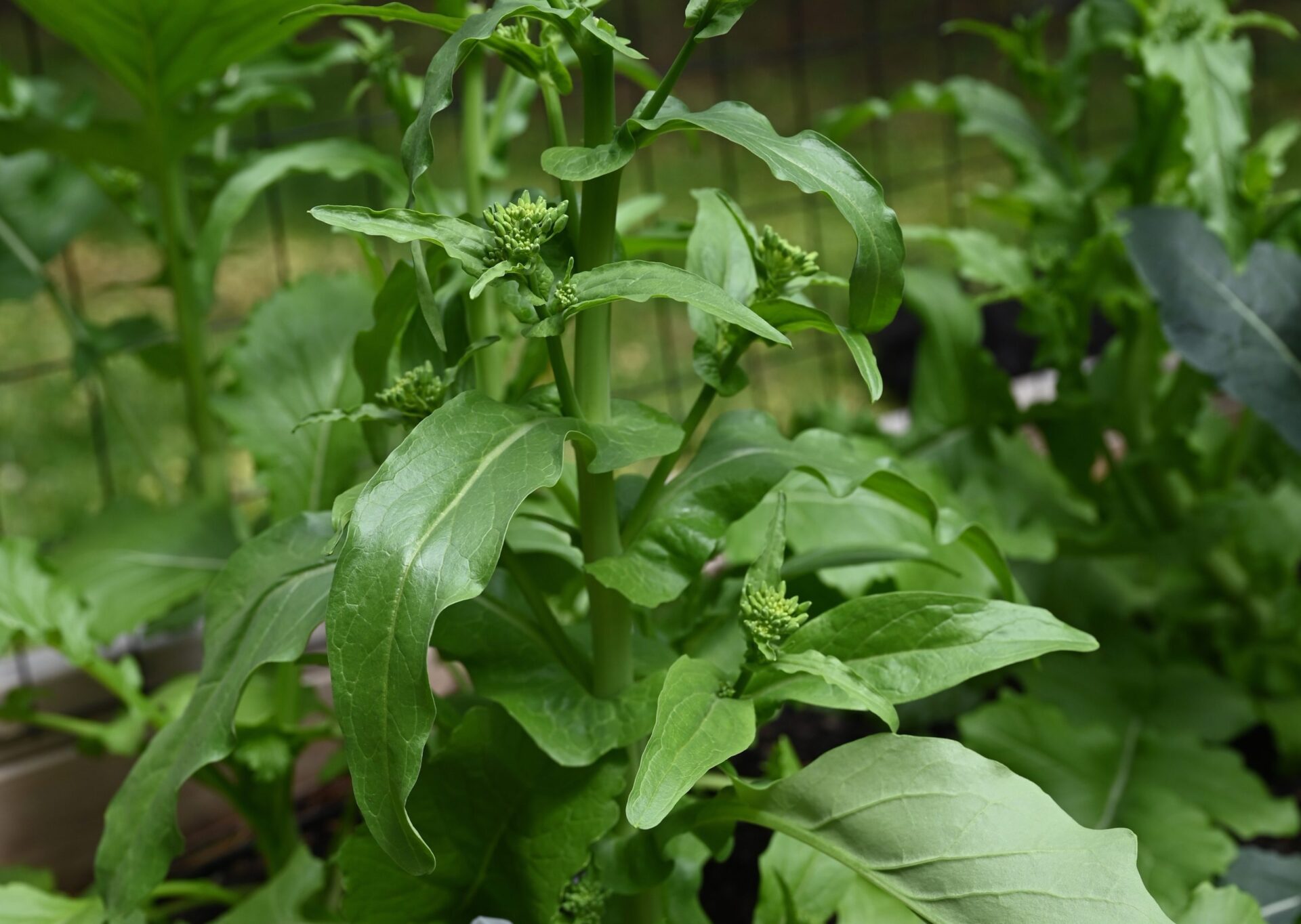 Cooking With Broccoli Raab
Sautéed Broccoli Raab: Heat olive oil in a pan, add chopped garlic and red pepper flakes for some heat, and sauté broccoli raab until tender-crisp. Season with salt and pepper, and serve as a flavorful side dish or a topping for pizza and pasta.
Broccoli Raab Stir-Fry: Stir-fry broccoli raab with your favorite vegetables like bell peppers, mushrooms, and onions. Add a splash of soy sauce or a drizzle of sesame oil for a delicious Asian-inspired dish.
Broccoli Raab Pasta: Blanch or steam broccoli raab until slightly tender, then toss it with cooked pasta, olive oil, garlic, and grated Parmesan cheese. Sprinkle with lemon zest for a bright and tangy twist.
Broccoli Raab and Sausage Skillet: Brown Italian sausage in a skillet, then add chopped broccoli raab and sauté until wilted. Season with salt, pepper, and a squeeze of lemon juice. Serve as a filling and flavorful main dish.
Broccoli Raab Pesto: Blanch or steam broccoli raab, then blend it with garlic, pine nuts, Parmesan cheese, and olive oil to create a unique pesto. Use it as a spread on sandwiches, a topping for grilled chicken or fish, or toss it with cooked pasta.
Try These Broccoli Recipes: