Planning a DIY Vegetable Garden? Here's 6 Reasons to Choose Professionally-Installed Raised Beds Instead
Introduction
Are you in the process of planning your vegetable garden? There's an abundance of products and services designed to help you grow food at home. But what is the right choice for you? 
For small, self-contained vegetable gardens, raised bed kits are easy to find for purchase, and promise to make your gardening experience a breeze.  The light package is shipped quickly to your door, and the simplicity of the assembly is attractive to any would-be DIYer.  But would you choose to build your own vegetable garden if you had the option to have your dream garden professionally installed, planted, and maintained?
A hassle-free garden installation sounds good, but it probably isn't the cheapest option. So it's no surprise that our clients are curious about the benefits of a professionally-installed custom raised bed garden versus a "do-it-yourself" raised bed kit. Although both provide the ability to control soil nutrients, weeds, and soil contaminants, store-bought raised bed kits are often flimsy, frustrating, and don't meet every gardener's needs.
At Backyard Eats, we've been a passionate part of Philadelphia's homegrown food movement for over 7 years, which means we've worked with over 500 clients to design their dream garden.  As professional vegetable garden designers, installers, and maintainers, we have made some observations on the difference between a professionally-installed raised bed and a DIY raised bed kit.
Keep reading to learn what elements we recommend for beautiful, hassle-free raised bed vegetable gardens that you and your loved ones will enjoy for years!
Benefits of Raised Bed Kits
First, we should acknowledge that raised bed vegetable garden kits do have their place in the world, and their ubiquity is a positive sign of a burgeoning homegrown food movement. 
Many beginner gardeners search for raised bed garden kits because the process of starting a garden seems complex and overwhelming.  Store-bought raised bed kits are an attractive option with convenient online shopping, fast shipping, and a low price.  They are easy to put together, and for the gardener intent on doing it themselves, they will work for 1-2 seasons before starting to look unsightly and fragile.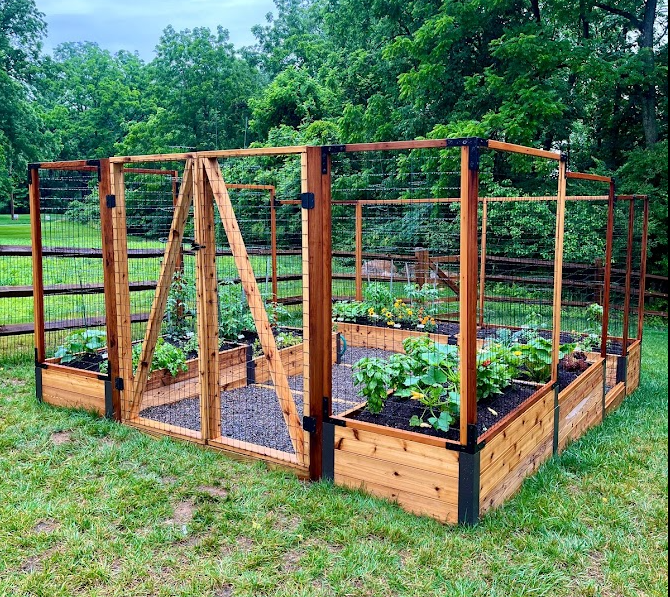 1. Safe and Durable Materials
First, Backyard Eats' custom raised beds are made out of durable materials that are guaranteed to stand the test of time. Professionally-installed raised beds use thick hemlock and cedar boards treated with a safe, zero-VOC spray used for preserving wood used in beehives and log houses. The spray hardens and densifies softwood species. With these materials, our vegetable gardens are estimated to last at least 10-15 years, and many more for raised beds built with cedar lumber. 
In contrast, raised bed garden kits contain cheap, thin lumber or metal that warps, rusts, or rots more quickly. Other "DIY" material options, like brick or concrete, may seem attractive because they can be bought at a hardware store, but have other drawbacks: like their heat-retention properties, which can scorch tender annual plants. Garden kits also lack the ability to support additional infrastructure like fencing or trellising.
One of our first clients in the East Mt Airy, Philadelphia neighborhood was a new resident who bought a home with four raised bed kits in the front yard.  We cleaned the weeds out, filled the beds with good soil, and even installed irrigation!  Unfortunately, the raised beds were not in an ideal place, and the flimsy boards started to give way as soon as we filled them with soil.  The last thing we ever did for that client was remove the beds, sow grass seed, and water the grass. 
Additionally, a garden is only as strong as its weakest link. Many raised bed kits break down due to flimsy screws and wood-to-wood corner connections. That's why we use heavy aluminum corners that integrate directly into the corners of our raised beds, and heavy-duty stainless steel screws to secure everything together.
2. Expert Help with Garden Design is a Wise Investment
Although store-bought raised bed kits may appear cheaper at the outset, in reality homeowners often replace DIY raised bed gardens 2-3 times before Backyard Eats' professionally-installed raised beds run their useful life. The costs of extra time, money, and materials spent on fixing or making additions to a DIY garden certainly add up!
Why spend several weekends struggling to build a garden that may or may not be in the right location, or have the right soil, when you could hire your local gardening experts instead? Backyard Eats' professional installation process is fast and easy, so you and your family can relax and enjoy your new garden instead!
3. Find the Best Site for Your Raised Bed Garden (Even if it's on a Slope!)
Another benefit of a custom raised bed garden is our ability to site the perfect place for your new garden. Every Backyard Eats garden is hand-built into your landscape board-by-board: even if your yard is on a slope. This allows us to choose the sunniest, best location for your crops to thrive. Our installation team ensures that each garden is level, so you won't have to worry about water pooling or soil shifting around your plants.
In contrast, DIY garden kits must be placed on a level surface for practical stability. This limits where you can place a garden area in your yard, potentially affecting sunlight levels or other personal factors like visibility.  Raised bed kits on a slope tend to have washouts during heavy rains, and make for precarious or even dangerous terrain around your garden.  
4. Professionally-Installed Drip Irrigation for your Vegetable Garden
Irrigation is a crucial addition for a healthy vegetable garden. Drip irrigation systems automatically water crops the right amount, at the right time, in the right place: the roots. This minimizes fungal diseases and the negative effects of under-watering your garden. Backyard Eats' professionally-installed drip irrigation lines are run directly from your existing hose spigot, seamlessly integrated into your raised beds, and set with a simple automated irrigation timer that's as easy to use as an alarm clock!
Irrigation takes expertise to install correctly, and it's usually missed by ambitious "do-it-yourself" gardeners. As experienced raised bed installers for over 7 years, we can say that while the process and the technology is ultimately very simple, it requires research, planning, ordering, and experimentation to get right.  This leaves you with the hassle and guesswork of watering your garden by hand: or worse, the costly mistake of fixing an improperly installed irrigation setup yourself.
5. Protective and Seamless Garden Fencing
Protective garden fencing is another essential addition to raised bed vegetable gardens. Unlike our custom garden designs, most DIY kits don't include a fence (or an easy way to add a fence yourself).
Even if your yard has an existing fence, it is likely not designed to be animal-proof. Although it may be high enough to deter deer, smaller pests like groundhogs and rabbits can still slip into your yard or burrow under fences to snack on your homegrown produce.
To prevent this problem, Backyard Eats directly integrates sturdy and attraction panel fencing into the aluminum corners of our raised beds. Black-painted metal mesh deters smaller pests like groundhogs and blends into your landscape. We also offer aesthetic features like gate arbors, which support vining plants and transform your fence into a living garden feature.
6. Garden Additions: Trellising and Pathways
As we've covered above, DIY raised bed kits supply a box to grow food but don't add value or protection to your garden. This includes trellising and pathways.
Trellises are a great addition to make the most of raised bed gardens. They maximize the growing potential of small spaces by allowing plants to grow upwards instead of sprawling across your yard. This also makes garden maintenance easier and helps prevent the spread of some fungal diseases.
While you can find DIY plant trellises options, a twisted old tomato cage is much more unsightly than an integrated panel or bamboo trellis from Backyard Eats.
Similarly, pathways cost time, money, and effort to install on your own. Don't leave room for error: choose a crushed gravel pathway from Backyard Eats for a low-maintenance, durable walkway so you can spend less time pulling weeds and more time enjoying your garden!
Conclusion
In conclusion, raised bed gardens are a great choice for growing food for your family, school, or community. Although "do-it-yourself" store-bought kits might be affordable and possible to install on your own, they pose serious drawbacks in terms of durability and functionality.
That's why Backyard Eats offers everything from custom garden designs to expert installation and ongoing maintenance! No matter the size or condition of your yard, we can help you grow food with the trusted methods listed above.
Do you want a beautiful raised bed garden that will last for years to come? Do you want to start enjoying the bounty of your own garden as soon as possible? Book a consultation with Backyard Eats today!