Pickled beets are a tangy and vibrant delight that showcases the natural sweetness of beets with a hint of acidity. With just a few ingredients and simple steps, you can create homemade pickled beets that are both flavorful and versatile. The tender and earthy beets, soaked in a tangy brine, create a delightful balance of flavors. Whether enjoyed as a zesty side dish, a flavorful addition to salads, or a colorful garnish, pickled beets offer a burst of flavor that will elevate your meals. Embrace the simplicity of making these pickles at home and savor their tangy deliciousness with every bite.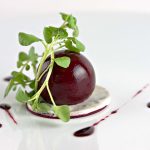 Print
Pickled Beets
Pickled Beets are easy to make and delicious straight or on sandwiches and in salads. You won't believe how fast these are to make.
Materials
1

lb

beets

(oven-roasted: see note)

3/4

cup

hot water

2

tsp

sugar

1

tsp

salt

1/2

cup

white vinegar
Instructions
Slice the roasted beets into bite sized pieces. Add to a mason jar.

Dissolve the salt and sugar in the hot water. Add the vinegar and stir to combine. Pour the liquid over the beets in the mason jar and seal.

Refrigerate for at least a half hour and enjoy!
Notes
You can read all about how to oven roast beets here: https://simplejoy.com/how-to-roast-beets/