Fennel and carrot cake is a unique and flavorful twist on a classic dessert that combines the delicate licorice-like notes of fennel with the natural sweetness of carrots. With a few ingredients and simple preparation, you can create a moist and aromatic cake that is both satisfying and intriguing. The finely grated carrots and finely chopped fennel bulb blend harmoniously, adding a delightful texture and a subtle complexity of flavors. Whether enjoyed as a delightful dessert or a special treat with a cup of tea, fennel and carrot cake offers a delightful combination of tastes that will captivate your taste buds. Embrace the creativity of making this unconventional cake and savor its deliciousness with every luscious bite.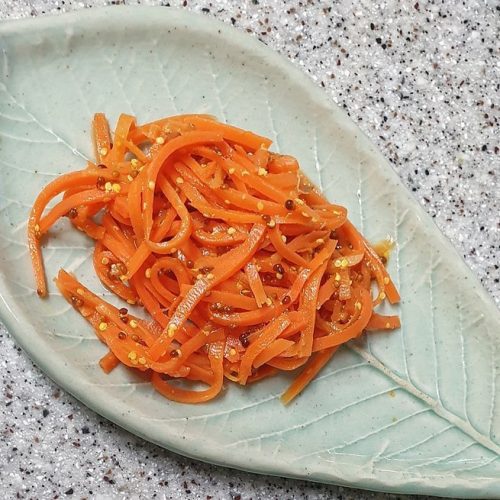 Fennel & Carrot Salad
This gorgeous spring Fennel & Carrot Salad has mixes delicate strands of vegetables with red onion, toasted walnuts and a zingy vinaigrette.
Ingredients
1

fennel bulb

(thinly sliced)

2

medium carrots

(shaved)

1

red onion

(thinly sliced)

2

Tbsp

walnuts

(chopped and lightly toasted)

1

Tbsp

extra-virgin olive oil

1/4

tsp

Dijon mustard

1/4

tsp

agave syrup or honey

Salt and pepper to taste
Instructions
Add the fennel, carrot, onion, and walnuts to a mixing bowl.

In another small bowl, combine the olive oil, vinegar, mustard, agave syrup, and a sprinkle of salt and pepper, and mix well to combine. 

Add the vinaigrette to the salad and toss to coat. Serve with a sprinkle of salt and ground black pepper, to taste.
Notes
This recipe is courtesy of Laura from A Food Lover's Kitchen