Making elderberry syrup at home with fresh ingredients is both simple and rewarding. The process involves gathering plump elderberries and simmering them with a few other natural ingredients. The resulting syrup is not only delicious but also packed with potent medicinal benefits. Elderberry has been treasured for centuries due to its immune-boosting properties, making it a perfect addition to your wellness routine. With just a little effort, you can whip up this nourishing syrup in your own kitchen, providing your family with a homemade elixir that is both satisfying and beneficial.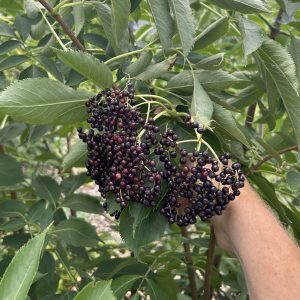 Elderberry Syrup
There are many things you can make with elderflowers and elderberries but the most popular is fresh elderberry syrup. This can be made with fresh elderberries or dried elderberries. The recipe below is making syrup with *fresh* berries. You can dry your berries in a dehydrator to make fresh syrup during the winter months.
Ingredients
2

lb

fresh, ripe elderberries

1

cup

honey

(or maple syrup or date syrup)

2"

piece

fresh ginger root

(shredded)

Optional additions: cinnamon stick, cloves, turmeric root, thyme, sage, rosemary, etc.

(get creative by adding any medicinal herb/spice you like!)
Instructions
Remove stems from fresh elderberries.

Place elderberries in the top part of a steam juicer. Steam for 30 minutes until the juice is running freely. Press berries lightly to release as much juice as possible.

Draw off the hot juice into a saucepan. You should have about 4 cups of juice. Add ginger (and any additional/optional ingredients except the honey) to the saucepan.

Simmer the juice with the ginger at a low temperature for 30 minutes until the juice is reduced to 2 cups. Remove the juice from the heat. Pour the juice through a mesh strainer to remove the ginger/other ingredients.

Add 1 cup of honey to the strained, reduced juice and stir well to combine. Pour into prepared sanitized bottle with tight-fitting lid. Label.

Keep refrigerated with lid firmly on. Will keep for several weeks in the fridge but also freezes nicely up to 6 months!
Notes
How To Use Elderberry Syrup: Adults can take 1 tablespoon of syrup at the first sign of a virus. Children who are able to have honey (over the age of 1) can take 1 teaspoon at the sign of infection. Take every 3 hours (up to 5 times daily) until symptoms are resolved.
Notes on Elderberries: Raw elderberries can cause stomach discomfort in some people - the problem is in the seeds. You must boil the berries for 30 minutes to remove the poisonous compound.
This recipe is courtesy of Amy from Amy's Miscellany (@amysmiscellany on Instagram)