An article in the April 16 edition of the Philadelphia Inquirer reads: "A Philly company appeals to perfectionists, foodies, people who are nostalgic about the gardens their grandparents grew, and those with money but no time."
Many people dream of enjoying a backyard garden with their families and enriching their healthy lifestyle. However, busy homeowners often lack the time, skills, and patience to build a traditional vegetable garden from scratch. Even would-be "do-it-yourself" gardeners can easily be overwhelmed by the amount of information online: not all of which is backed by science.
Backyard Eats helps anyone enjoy the benefits of homegrown produce without all of the guesswork and frustration! As a full-service gardening company, Backyard Eats helps people design, build, plant, maintain, and even harvest home vegetable gardens.
Unlike most landscaping companies, Backyard Eats specializes in raised beds for edible crops like annual vegetables, fruit trees and berries, and culinary herbs. While community gardens focus on public spaces, Backyard Eats' customizable design process ensures that each project supports an individual client's needs and goals.
For Jessica Dommes, a computer programmer and beginner gardener, time and energy were important factors in her decision to build a garden. "At my last place, I painstakingly dug up the grass and put in beds myself," Dommes said in an interview with the Philadelphia Inquirer this April. "I do not want to repeat that experience at all."
Now, according to author Zoe Greenberg,
"Jessica Dommes' backyard looked like a life-size advertisement for the joy of gardening on a recent April morning. A yellow forsythia bush bloomed under a cloudless blue sky; the sun shone in that newly spring way that makes you want to go outside and stay there."
Every facet of Backyard Eats' raised bed gardens are designed to make backyard gardening an easy and rewarding experience — from level wooden raised beds to automatic drip irrigation systems. Thanks to a professional installation process, clients can start enjoying a successful, healthy garden planted with high-performing crops as soon as possible. Plant labels with QR codes even link to a Harvest Toolkit that coaches home gardeners on when and how to harvest each crop in their garden!
Backyard Eats customers can also opt to sign up for ongoing garden maintenance services, which includes organic pest control methods and convenient produce harvests.
To learn more about why we choose organic garden maintenance methods, read our blog post on the dangers of glyphosate.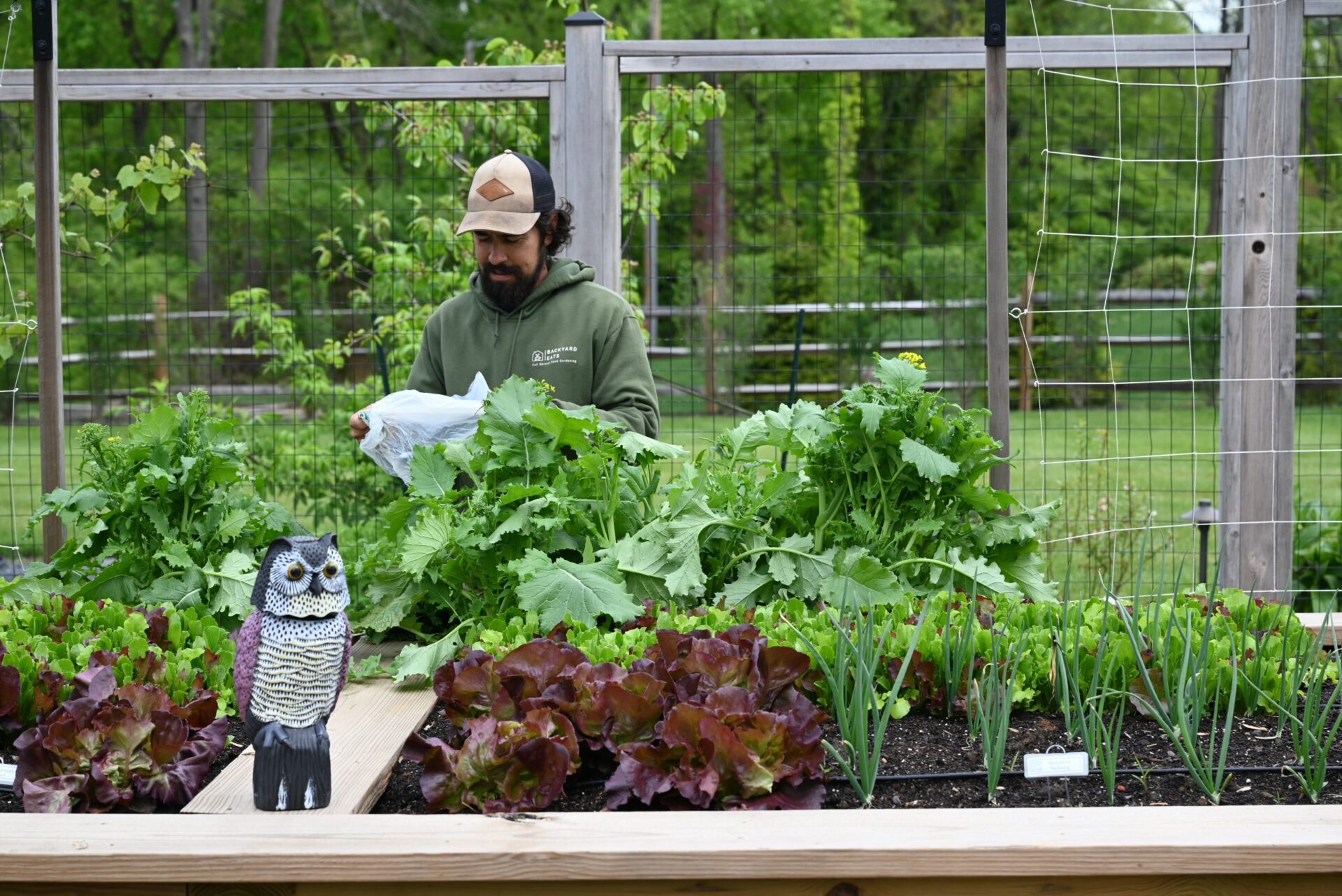 This solution was perfect for James Fleck, who wanted to recreate the childhood magic of gardening with his grandfather in Long Island, NY with his own family in Blue Bell, PA.
So Fleck hired Backyard Eats to design and build a combination of raised beds, berry trellises, and sturdy panel fencing to deter pests like deer. Now, Fleck has a thriving vegetable garden where he can harvest ripe zucchini, tomatoes, raspberries, and more with his daughters: creating meaningful memories and a deeper connection with nature.
On learning to garden with Backyard Eats, Fleck says:
"I like to think that they're helping me with my green thumb. It's still a pale yellow, but it's moving in the right direction."
If you are a Philadelphia Inquirer subscriber, you can read the full text of the original article by Zoe Greenberg here.