Radish and white bean salad is a refreshing and nutritious dish that combines the crispness of radishes with the creamy texture of white beans. With minimal ingredients and simple assembly, you can create a delightful salad that is both light and satisfying. The peppery radishes and the hearty white beans create a wonderful contrast of flavors and textures. Whether enjoyed as a refreshing side dish or a light lunch, radish and white bean salad offers a burst of freshness and a wholesome combination of ingredients. Embrace the simplicity of preparing this salad and savor its deliciousness with each vibrant bite.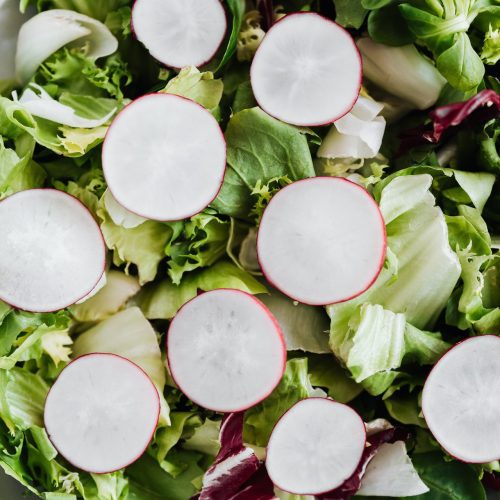 Radish and White Bean Salad
This salad has a lot of earthy flavors shining through. I like that this recipe allows you to make it your own, or keep it simple, and as is.
Ingredients
1/4 cup + 1 Tbsp

extra-virgin olive oil

(divided)

4

green onions

2

Tbsp

fresh dill

(chopped)

2

Tbsp

fresh tarragon

(chopped)

2

Tbsp

lemon juice

(freshly squeezed)

2

cups

radishes

(thinly sliced)

1

can

cannellini beans

(rinsed and drained)

2

cups

arugula

kosher salt

(to taste)

freshly ground black pepper

(to taste)
Instructions
Heat 1 tbsp olive oil to a large skillet over medium high heat. Add green onions and cook for approximately 5-7 minutes until a nice char develops on all sides. Thinly slice and place in a large bowl. To the same bowl add dill, tarragon and lemon juice. Slowly drizzle in olive oil while whisking and season to taste with salt and pepper.

Add radishes, beans and arugula to bowl and toss gently to coat with vinaigrette. Serve immediately.
Notes
This recipe came from The Fresh Market blog.