Scallion pancakes are a delicious and savory treat that highlights the flavors of fresh scallions. With minimal ingredients and easy preparation, you can create a crispy and flavorful pancake that is both satisfying and versatile. The combination of tender dough and the subtle onion-like taste of scallions creates a delightful balance of textures and flavors. Whether enjoyed as a snack, appetizer, or a side dish, scallion pancakes offer a delightful way to incorporate a taste of Asian cuisine into your meals. Experience the joy of making these savory pancakes and savor the deliciousness with each bite.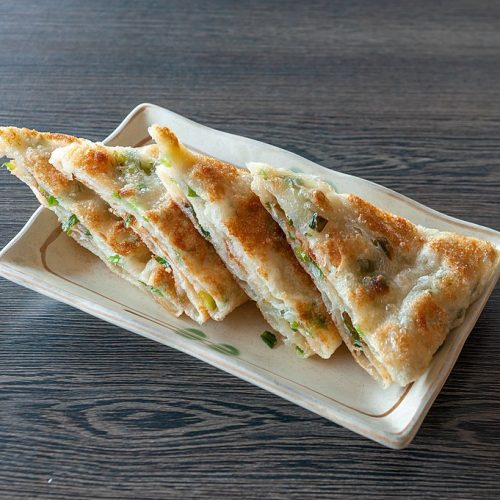 Easy Shortcut Scallion Pancake
An easy scallion pancake recipe with just 4 ingredients and 20 minutes of prep. Freezer-friendly & just as good as our traditional scallion pancake recipes!
Ingredients
6-8

scallions

1

pack

store-bought, round, white dumpling wrappers

vegetable, canola, or light olive oil

salt
Instructions
Take the dumpling wrappers out of the refrigerator, and let them warm up a bit (they don't necessarily have to be at room temperature, but they shouldn't be cold). Wash the scallions and pat them thoroughly dry with a clean kitchen towel. Slice the scallions in half lengthwise and finely chop them.

Prepare a small dish of salt and a dish of oil, along with a pastry brush.

On a clean work surface, take a dumpling wrapper, brush it with a thin layer of oil, and lightly sprinkle with salt. Then cover with a layer of scallions. Top it with another dumpling wrapper, and lightly press it down. Repeat the process until you have 4-7 layers of dumpling wrappers.

Use a rolling pin to roll the layered dumpling skins into a pancake––however thick or thin you like. Rotate the scallion pancake as you roll to get a perfect round shape.

Heat a flat-bottomed non-stick or cast iron pan over medium heat. Spread 1 tablespoon oil around in the pan, and add the scallion pancake. Cook each side until golden brown, about 2-3 minutes per side. (Avoid using high heat, as it will burn the pancake without cooking it through).

If the pan looks dry after flipping the pancake, you can add another tablespoon of oil.

Enjoy these plain or with a dipping sauce! We've found that they go great with our dumpling dipping sauce.
Notes
To pre-make and freeze any uncooked scallion pancakes:
After rolling out each pancake, place on a sheet of parchment or wax paper, and place another sheet of paper on top.
Layer the scallion pancakes between the wax paper or parchment paper.
Transfer to a large freezer bag, and place on a flat shelf in the freezer so they freeze flat.
To cook, add them directly to a pan with hot oil––no need to thaw beforehand.